I learned to play the guitar when I was a kid instead of swotting for my A Levels. My mam and dad almost certainly got fed up to listening to renditions from the "Beatles Songbook".
One of my early masterpieces was Norwegian Wood. Last night we had some friends round for a barbeque. Our bbq is also a firepit and when the eating is done we throw on some sticks, toast marshmallows, chat and maybe even strum the geetar.
On this occasion I was reminded of a line in Norwegian Wood – "I sat by the fire, biding my time, drinking her wine". Knowing it would be of huge interest to all Beatles fans out there I took a photo illustrating the moment.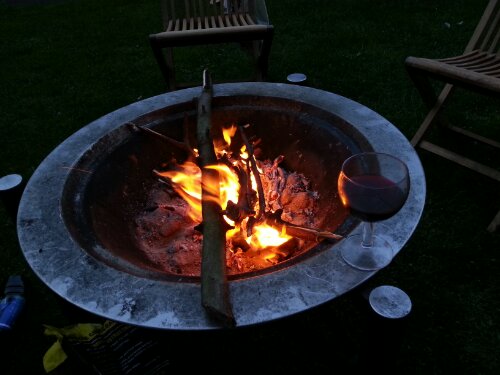 PS I am available for parties. I'm not particularly good but as long as everyone has had plenty of wine I sound fine:)
Posted using WordPress for android on my Samsung galaxy S3