I just happened to be flicking through (metaphorically) the DredgingToday.com website (as you do) when I noticed that Southampton docks have set a new British record for container moves.
Well I gotta tell you, I woz there!
Southampton docks are a joint venture between DP World and Timico customer Associated British Ports and I was there to look at the technology they use. Timico manages the ABP Wide Area Network and provides other services such as Mobile Access Management. MAM SIMs are used on dredgers to securely carry telemetry data back to base. The mobile signal in the Solent varies in strength and availability. VPN packet overheads often left little bandwidth available for the telemetry data. With the MAM connection this data is transmitted directly into the ABP corporate MPLS network without the need for the VPN connection. Result – good bandwidth for telemetry data and happy customer. End of advert.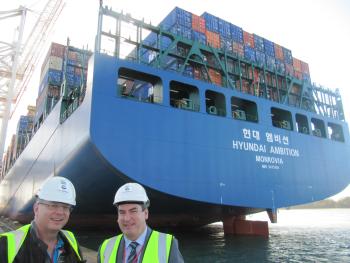 The news of the British record is very timely. Timely because I saw the Hyundai Ambition enter the port and timely because it highlights the investment in technology that is making Southampton a highly competitive destination in the shipping world.
Time is money and at Southampton they aim to shift containers in as little time as possible. Huge container ships are offloaded and loaded again in under 24 hours.
The big cranes you see on the skyline at every port move the containers on and off the ships but the real work horses are the "straddle carriers" that do the local land based shifting, usually onto trucks and trains that go on to destinations around the UK.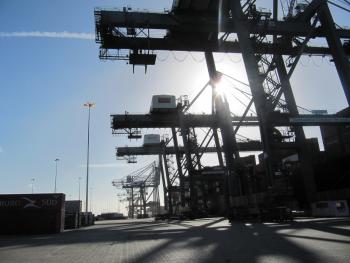 This is where it gets interesting. At Southampton the exact location of every container is known to within 30cm. Each lifter has a GPS terminal that radios its position to the central management system. At a large port like Southampton they do thousands of small moves a day. By knowing the exact position of each straddle carrier and of each container (every container in the world has an unique identifier) planners can maximise the efficiency of the operation. Straddle carriers are given the shortest possible moves in the fastest time. Each carrier has a 6 litre diesel engine. It's easy to see how minimising distances can save a lot of fuel.
I watched one in action. It was hugely impressive. On a laptop screen you can watch in almost real time a straddle carrier following its own on-screen instruction to move a container from point A to point B. These bits of kit cost half a million pounds each and can move 30 tons without blinking.
The unit of measure in this world is the Twenty foot Equivalent Unit or TEU. One TEU is a 20 foot container. At Southampton, by investing in technology to improve the accuracy of their systems they have upped their average move rate from 21 to 28 TEUs an hour. That's a massive improvement.
They can on occasion, as was the case with the Hyundai Ambition, achieve much higher move rates. On Tuesday they shifted 651 TEUs in 12 hours (54.25 crane moves per hour) with a single crane, beating smashing the previous record of 603.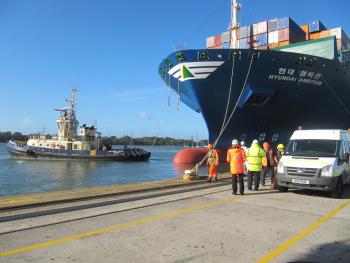 The location and content of every single container on a ship is known and can be graphically represented on a monitor. The dock planners move containers from ship to shore to staging area. They have an SLA for truck loading of one hour and usually come well within this. It's usually minutes.  Again time is money for all concerned.
There is more. All these systems are integrated with other systems that handle the Customs and Excise work. This activity is run by a separate subsidiary called Community Network Services. The necessary import / export processes are all automated. Cargo manifests for each container are submitted electronically. Containers that need examination (eg food imports need sample testing) can be electronically put on hold and moved to inspection bays using the planning tools I've talked about. What's more the systems are separated so that those moving the containers around can't see their contents – for obvious reasons.
I've been visiting quite a few of our customers in recent weeks and have to say I've been massively impressed. In the case of ABP it is very much big boys toys. Huge ships, huge cranes and indeed huge areas of dockland where they store huge numbers of containers. If I'm going on a bit I don't care – it's been great.
ABP is a business that is continuously improving. In recent years they have rationalised their estate from seven to two computer rooms and are planning more virtualisation. They are also investing in further capacity at Southampton. A new berth, operational from 2014, will be capable of handling vessels of 16,000 TEU+. The Hyundai Ambition can carry 13,200 TEU so we are talking big here.
ABP are just another great customer to work with.
I'd like to specifically thank Eddy Hooper for arranging my visit and Andy Kinnel, IT manager at DP World Southampton and his team for the exceptional hospitality extended to me during my stay and for giving me so much of their time. Time, as I seem to keep saying, is money.
Good luck to ABP, DP World Southampton and all who sail into their port 🙂
PS there is a supercool app called Marine Traffic in the Android Play Store that tells you where every ship is in the world. V useful I'd say! 🙂