Many of you will be familiar with the Timico NOC. It's a 24x7x365 top class resource for our customers. There aren't many around as good as ours. On Sunday I saw one that came close. It's the control centre of the Hamburg Model Railway and pictured in the header here. Click on the pic for a full size panorama.
It's not 24x7x365. The place shuts at 8pm. It's hugely impressive though. The whole place is. I first heard about it on a James May TV show and decided I just had to go and see it.  I went on my own without the kids. They wouldn't have enjoyed it:)
Reality is I'm in Hamburg with LONAP for the Euro-IX meeting. You will no doubt hear more of the meeting in forthcoming blog posts but for the moment I'm happy to dwell on the Model Railway of the Miniatur Wunderland as they call it round here.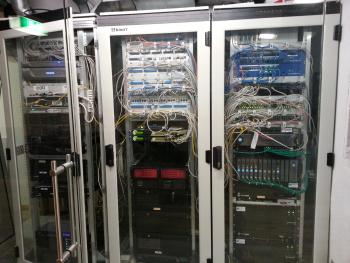 Recognising that this is a technology related blog I include a photo of the three racks that they use to run the network. Not particularly tidy cabling but nobody is complaining. Also I'm not going to go into any depth on facts about the railway. I didn't pick up any info like that. When you go to see it you spend all your time gazing at the layouts. If facts are what you want just catch up on the James May show.
Really the point of this post is just to brag about the fact that I've been to see the Hamburg Model Railway. If you don't think it's something worth bragging about then you are clearly not on my wavelength.
Some vids below for your entertainment: