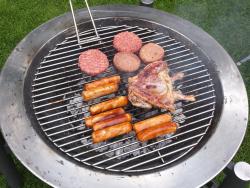 We used to have an Australian Gas Barbecue. It was great. My wife isn't a big fan of barbecues because you never know how long the charcoal is going to take to get to the right temperature for cooking. With 4 kids to feed this was important. It was an expensive piece of kit but did a terrific job, passed scrutiny with Mrs Davies and we used to use it pretty often during the summer.
Unfortunately it eventually rusted away and the price of spare parts was such that I could almost have bough a new one instead so we left it to rot around the back of the playhouse at the bottom of the garden. It was taken to the tip last year.
To replace it we bought a stainless steel charcoal barbecue that turned into a fire pit once you had finished cooking. This, like its gas predecessor is also a great piece of kit. We have had marvellous evenings sat outside drinking beer and strumming the ole geetar. The wood smoke keeps the mozzies away – I'm particularly prone to being bitten by insects. They love me.
The downside of this charcoal barbecue is of course that it doesn't get used as often for reasons you already know. That's life Jim.
Now I have a big wedding anniversary coming up later this month and we will have 80 or so guests coming to lunch. In our back garden. We are pushing the boat out – barrel of TT Landlord, some posh pop and a barbecue (dress code – Hawaiian shirts). Unfortunately our charcoal barbecue is not big enough to cook for 80 people in a timely manner.
I've used this as an excuse to invest in a new gas barbecue. A Weber. Comes with a warranty for all parts and has "Flavoriser®" bars. Other than the fact that it needs assembling I am a happy Tref. Our guests shall have sausages 🙂
When you buy an expensive piece of kit you don't do it without significant online research first. I feel I already know our barbecue in intimate detail  even though it doesn't get delivered until next week.
The problem I now have, and this is really the point of the post, is that having made my buying decision and paid for the product Google is still bombarding me with ads for Weber barbecues. I no longer need these ads. There needs to be a box for me to tick telling Google and their paying advertisers that they are wasting their time. Someone else now has my money (B&Q).
I realise such a mechanism would be open to abuse – people who haven't yet bought their barbecue might also tick the box thus denying sellers of Weber barbecues the opportunity to get their pitch across. This I feel is a risk worth taking. The feature is clearly a winner. It is surely just a matter of time.
I'll finish off this technologically tenuous post by letting you know that the old charcoal barbecue will still get used, mostly as a fire pit I imagine. Anyone in Lincoln over August Bank Holiday weekend should listen out for sounds of a guitar and strains of cumbaya emanating from a back garden. It'll be me.
Video below is of the barbecue betting its annual clean.