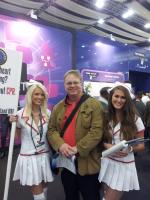 Had my annual check up at my local GP today. You'll all be relieved to know I have the thumbs up. Amazing I know.
The nurse was having a real problem with her mouse as she tried to navigate her way through the NHS computer records system – it must have a name (white elephant, major cost overrun IT disaster, I dunno). So I asked her to move over, opened up the mouse, cleaned it and put it back together again. Worked perfectly. She was very happy.
What's more she is now fully trained in mouse maintenance. The surgery would previously have probably had to call out the IT department or more likely a contractor at an exorbitant rate.
It's nice to give something back every now and again – we should all do our little bit:)
That is all.
PS the photo is one I found in my library. These nurses aren't the same ones that work at my GP's surgery. Thought you would want to know.