The trefor.net xmas bash 2013 is on Thursday 12th December. This year we are back at SoHo's Phoenix Artist Club. When you have a winning recipe why change it. We even have the same musical line up with the Jeff Brown quartet and international jazz pianist Colin Dudman. Last year we drank 53 bottles of champagne. That record has to be beaten in 2013.
As usual we have a terrific line up of sponsors, many of who support the event year after year: Timico,NewNet, Genband, IPCortex, Siphon, Provu, AVM, Daisy, imtechict, XConnect, Magrathea and Yealink. We couldn't have the bash without the help of these great companies.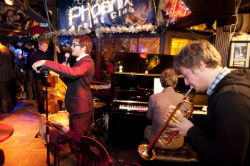 It's a 5.30 start until late. Book a hotel room for the night and take the Friday off. This is one hell of a bash. If you haven't been to a trefbash before you can check out last year's video here.
Only book a ticket if you plan on coming – this event will be oversubscribed. Note there is going to be an open bar until the not insubstantial kitty runs out. You will be able to order and pay for your own food which is very reasonably priced.
You can book a ticket below or via the eventbrite page. See ya there?