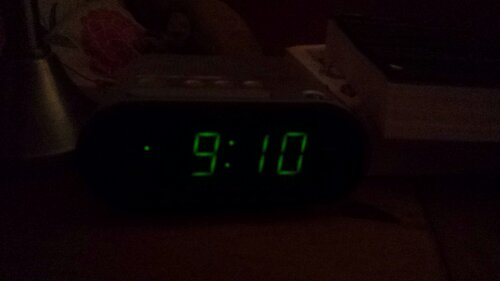 A few weeks ago our expensive DAB clock radio died. It never worked  particularly well at low volumes which is what we need when lying in bed but it was useful in being able to easily tune into lots of different DAB channels.
We replaced it with the FM clock radio from our son Tom's room. Tom no longer lives at home and he doesn't need it. The only problem with Tom's radio is that whilst it works find you have to manually tune it with the dial on the side of the radio.
So this morning, which is Sunday morning, we are lying in bed listening to the radio when, of course it being Sunday, the Sunday service came on (Radio4). This is always the cue to switch off.
At the same time @mrstevenallen who is a radio presenter and comedian I engage with occasionally on Twitter mentioned that he was on air on 107.5 fm somewhere in deepest Essex . I tried clicking on the links he provided to listen in but none of them seem to work very well on my android. The TuneIn radio app, however, worked a treat so in I listened.
I mentioned to Steve that I was listening and even got a mention myself on the radio (yay fame at last).
After listening for a few minutes I decided to move on – the music was not really to my taste. Instead of faffing around manually with the bedside radio i just tried a few channels  in the "recent" list on TuneIn radio. I hopped around a couple avoiding the inevitable religious content and settled on radio 3.
The clock radio will die off. With TuneIn radio on my phone  providing many more channels at the click of a thumb why should I bother? When I eventually get up the radio will just follow me, using the phone whereas before TuneIn radio I would have had separate radios in the bathroom the kitchen etc etc etc.
The only value the clock radio now provides me is a large digital display showing the time. Being nearly blind I can just about make this out through blurry eyes on the neon display first thing in the morning.
I can't imagine our kids, who all have android phones, going out and buying a clock radio when they leave home.
Another household appliance destined for a museum display cabinet?
Time go get up.
PS this post was mostly dictated using the wordpress app for android.