With a couple of weeks to go the regular UK Network Operators Forum (UKNOF) meeting is seeing very healthy growth in registrations.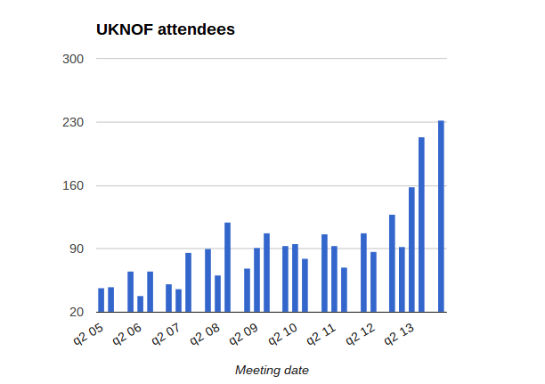 Take a look at the chart. Waaay back in the actually not too distant past UKNOF1 in May 2005 had 47 folk in attendance.
If you are in the game you will recognise quite a few names there.
Today, at the time of writing and with a couple of weeks to go, there are 232 people signed up.
A fair bit of this growth has come in the last 12 months which must sure be an emulation of other economic indicators. Although not all companies are doing well the well run ones are. I'd expect the final numbers for UNKNOF27 to exceed 250.
UKNOF meetings are not for the layman but if you are in the business the agenda reads very well – indicators of what's going on in the internet plumbing world.
This meeting includes talks on:
progress with the new generic top level domains by Leo Vegoda ICANN – remember the industry is expanding from the relatively short list of domain suffixes (.com, .net etc) to include hundreds more (/plumbing, .sexy, .photography etc)
100GigE rollout at Janet by Rob Evans (ref yesterday's post on Janet)
DDOS equals pain by Richard Bible
These are all subjects that, if you but knew it, affect everyone on the planet one way or another. We may all want a website that uses the new gtld (.plumbing might become cool:) ).  Faster home broadband means that networks need faster and faster connections to carry the traffic back and forth from the internet (etc). 100GigE which has been in development for years was first mentioned on this blog back in 2010 but still only has 2 organisations using it in the UK (BT & Janet).
You may not notice a DDOS (Distributed Denial of Service) attack but every now and again if you have problems accessing particular websites there is a fair chance that this is because of DDOS. Even an individual broadband connection occasionally gets attacked – usually if the person at the end of that broadband has upset someone else. The internet is certainly still in the wild wild west web stage.
The fact that sponsors line up to support these events is a testament to the quality of the meetings and of the attendees.
That's it for now. I'm going to UKNOF27 and will perhaps update on final numbers on the day.
PS took me ages to get the chart exported from google spreadsheet. There is a known bug that has been at least 2 years in the fixing (not). In the end I had to take a screenshot!