It's Friday, it's Valentine's Day and I'm on the way to the Isle of Man for the weekend before landing back for the LINX meeting on Monday.
There is no chef on this train so breakfast is a mere croissant and a bacon bap – the staff have striven valiantly to make up for the absence of the temperamental cook. I have visions of him flinging knives across the train galley  and storming off complaining about how can an artiste be expected to create magnificent dishes in such conditions. All I wanted was a Full English but hey… I expect he will be happier back at the Savoy.
Because the weekend is coming up hard on the rails I have permitted myself the luxury of

picking up a copy of the Times as I got on the train. It isn't a paper I normally read because of the paywall. In fact I don't normally read hard copy – newsprint gets all over your hands (raises back of hand to forehead and says "look at the muck in 'ere").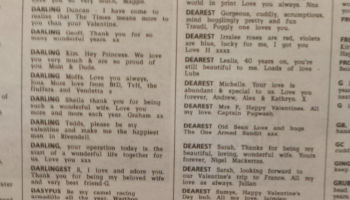 On this occasion I am glad I did for pages 64 – 67 are filled with Valentines messages. Messages that remind me of actually how normal I am: "Chunky loves monkey", "Happy Valentines to Ickle Bunny from Big Bunny", "My darling twinkles, my lobster, my friend, my everything, my love" and so on and so forth:)
This morning a taxi was picking me up at 7am to whisk me to the 07.20 from Lincoln Central. I got up at 6.30, made a pot of tea, gave Anne a nice little kiss and headed off suggesting we should keep in touch.
Downstairs the TV room floor was littered with 6 fourteen year old yooves who had stopped over for a birthday sleepover. No school today. Half Term. After clearing up the mess and fixing breakfast Anne will meet them down town to pay for their entry to the cinema and then meet them in Chimichangas, after they have finished their meal, to settle the bill there.
That is love. All whilst I sit comfortably in First Class flicking through the classifieds.
Don't get me wrong. I'm not saying there isn't room for the occasional honey bunch loves her German sausage etc etc etc. With this in mind I herewith offer the readers of this blog the opportunity to leave a Valentines message for their loved one. This is totally free of charge – trefor.net will cover all publication costs.  Also be assured that my discretion will be absolute.  Anonymity is guaranteed;)
Just to make it interesting I will throw in a free weekend in Paris for two with business class seats on the Eurostar and two nights at the fabulous George V hotel for the most interesting and innovative comment.1
Cmon now…
PS photos not totally in focus – train was a little jerky. Probably a good thing really.
1 subject to availability, the judges opinion is final, blue moon and me winning the lottery etc