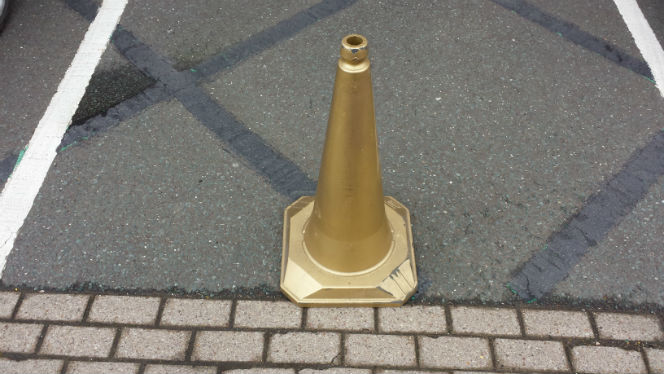 The Golden Cone. Sometimes you come across something quite by accident that lights up your life. It's similar to finding a ten pound note in a pair of trousers you haven't worn since last summer, but different.
This morning we were on our way to the 24th Euro-IX Forum in Leeds and Rob Lister decided we would take a different route to  the one we had been using. This took us past the ASDA offices which was where we discovered pure treasure. Traffic cones of bright gold lined the parking spaces nearest to the front door. Position A.
The second photo shows you why they were there. Rewards for good behaviour/good attendance/top performance/name drawn in a raffle1. One wonders whether there is the obverse incentive at the point at the end of the car park farthest away from the door. Or maybe naughty employees aren't actually allowed to park and are made to get the bus in to work (nothing wrong with taking the bus – I don't know what they were thinking!).
Of course this HR morale booster could also work the other way. Staff might actively seek not to win to avoid approbation by jealous peers. Still, it was a good idea, I suppose…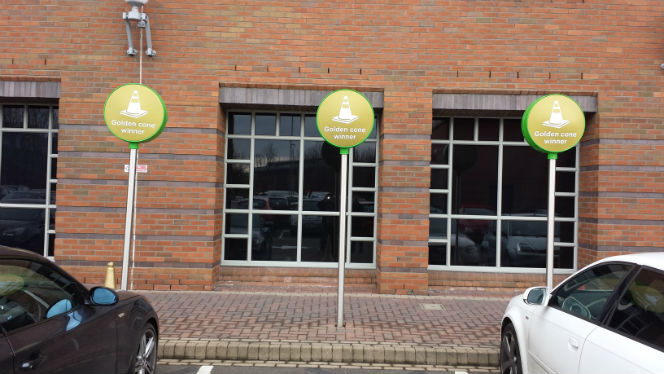 Other Peering Week posts on trefor.net include:
UK internet history – The Early Days of LONAP by Raza Rizvi
INEX's IXP Manager – Tools to help manage an Internet Exchange by Barry O'Donovan
Regional Peering in the UK by James Blessing
Co-operation makes internet exchanges future proof by Pauline Hartsuiker
Experience of launching an IXP in North America by Ben Hedges
1 delete as you see fit – I don't actually know the answer.