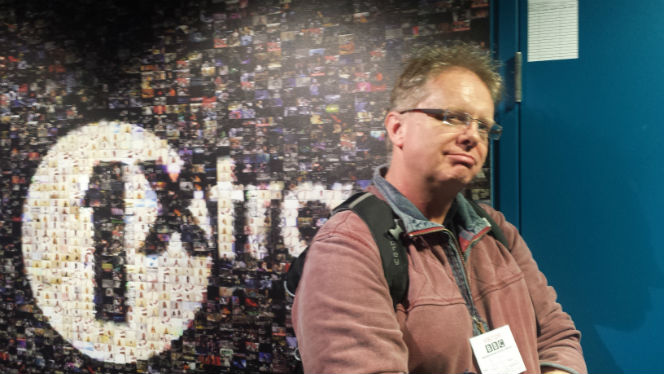 In at Radio1 the other day, as you do. It's where all the kids hang out. Not a sign of a suit or tie. It's on the top floor of Broadcasting House. There's a helluva view down the middle of the building.
That's the newsroom at the bottom there. You see those desks through the glass windows behind newsreaders. The newsroom has to be at the bottom because the news is always so heavy. They should have a separate edition where only good news was read out. Life is short…
At Radio1 they have a bit of a display highlighting their good bits. I went round it the wrong way so it didn't quite flow as perhaps it should have. Ah well.
Whilst I was there I had lunch at the BBC canteen. Gammon, chips and veg with gravy. The mustard dispenser had nearly run out so I had to shake it upside down quite a bit to get the last bit. I didn't bother letting them know although I should have. Someone else will have done it after me. You can't have gammon without mustard can you? Also had a bottle of sparkling water. Fwiw.
The reception area wasn't how I imagined it to be. In my mind it was a small space with a settee and an uniformed porter looking me up and down asking who I was there to see.
Instead it was a large reception area with many settees and lots of people milling round. Lots of programming hours to fill need lots of people. Innit? Can't keep using the same ones in different shows can you even if they do use wigs and lots of make up? It's a problem of their own creation. Had they kept the test card  they would have had fewer hours to fill and there are enough repeats is it is. As far as I know.
The people in reception looked normal enough. Nobody in fancy dress. Maybe they didn't get changed into their outfits until they got to their dressing rooms. Obvious really.
I don't listen to Radio1 meself btw. It's gone downhill since my day. They've moved all the good stuff onto Radio2 for some reason:).
Didn't spot any celebs. Expect they were all in the green room guzzling back the gin and champagne. It's also a problem that I probably wouldn't recognise many celebs anyway. Not my problem. Love.
Had I seen a celeb I wouldn't have a picture to show you. That wouldn't have been cool. I leave that sort of thing to the Japanese and American tourists who not being from round 'ere may not have recognised them either but wouldn't have let that get between them and a good photo opportunity. "Dear Hank/Yoshi1 Here's me with an A-Z2 lister. Love Mildred/Sushi3"
That's it. Got a few more pics especially a long one like the one on the right but of the outside showing the famous BBC sign. However I don't think I can sustain enough of a dialogue to run the length of a second long photo so I'll hold that back for another idle moment when I've woken up early and popped downstairs to do stuff.
Ciao amigos. Pinch and a punch…
PS Why was I there? Keep watching:)
PPS That's my new Osprey bag on my shoulder
1,2,3As usual delete as you see fit.