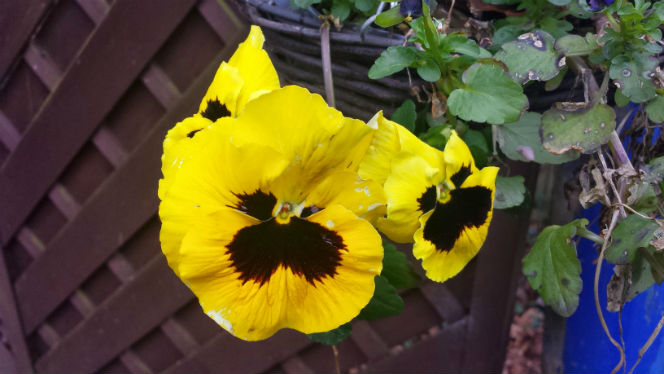 It's a yellow flower at the weekend. The green leaves around it look quite manky but the flower shines through. I'm ashamed to admit that I have no idea what make of flower it is. What brand. Wouldn't surprise me if companies try to register flower names as brands.
If I saw a rose I could name that. Tulips and daffodils I can also identify. Otherwise I begin to struggle. I'm ok with grass. I quite like grass although our lawn needs some seeing to. It's not worth the effort as it gets hammered all year round by kids.
I quite like mowing the lawn in the summer followed by lighting the barbecue and cracking open a tin or two. It's not often the weather is good enough for us to sit out to eat but the conservatory is fine. We have a nice conservatory opening out onto the back garden and the table will seat ten or twelve people if we open out the leaves so it's a good place for a relaxing Sunday barbecue that lasts all afternoon.
We also have a couple of gazebos that can come in handy both when there is a threat of rain and conversely it is too sunny. Anyway hope you enjoyed the picture of the flower. It's the weekend. Make it a lazy one 🙂
PS if anyone has a favourite flower do let us know:)