This week I've been on holiday in the Isle of Man and have not shaved with a view to testing whether 4 or 5 blades are best for shaving. In theory I guess  the 5 blades should give a better shave but there is also an argument that the fifth bade may be redundant.
The sequence of photos takes you though it. I order of appearance:
1The tools – including the King of Shaves shaving gel. Best in the game in my experience. 2 Close up of the razor heads. 3 Nivea aftershave – don't normally use the stuff but thought I would for this test. 4 Before the shave. 5 Lathgered up. 6 the 5 blade result. 7 Half way through. 8 The finished job. 9 The 4 blade shave.
The result is buried amongst the photos. Manipulating photos in WordPress isn't easy and the text is where the text is:)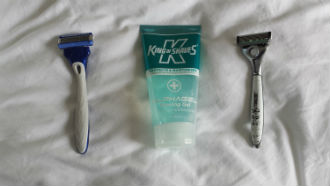 The result: Mrs Davies Senior thinks the 4 blade was smoothest. The current Mrs Davies preferred the 5 blader.
I think I might marginally prefer the feel of the 5 blader when shaving but tbh there isn't much in it and if the 5 blades are significantly more expensive than the 4 then it's a non starter.
Voila…