Lest regular readership get the mistaken impression that every La Famille Kessel Saturday is filled full-up with memorable diversion, today I will not report on a Normandy beachside kite festival competition or a world-class photo exhibit attended or any such specialness. Instead, dear and generous reader, I will gladly bring you along on a short walk I took around my corner of Paris's 18th Arrondissement in search of photographs and dinner party nibbles.
First, to set the pin on the map, the part of 18eme in which La Famille Kessel has made home since 2001 is on the arrondissement's northern edge, and not the storied and well-trodden Montmartre (though it isn't far removed, and we do have a view of Sacre Coeur, provided someone is holding the back of your pants when you lean out the window and look sharply to the right). It is an immigrant neighborhood in the strongest sense of the word, with over 160 nationalities represented (the most diverse such area in all of Europe, in fact…or so we have so often been told). The heterogeneousness, in fact, seeps into and around everything…streetlife, the shops, the wide disparity in the quality and condition of the vehicles…and for a person with a photography bent and a halfway decent camera, every blue-sky sunny day reeks of opportunity.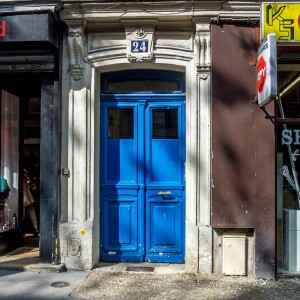 American friends living in Holland were in town over the weekend with four kids in tow, and Saturday evening we would welcome them for eats and drinks. I had the main course set and prepared — three tartes a la tomates (recipe some other time), an herb-infested green salad with pistachio and a garlic-tomato-balsamic vinaigrette — but we were were sorely lacking for food-before-the-food, so out the door I went, bang into what from my fourth floor window looked like one of the Top 10 Best days of the year.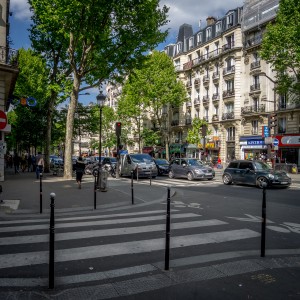 Happily, my window didn't lie, and from the moment my shoes hit the sidewalk I felt a bounce in my step. The day was glorious. A crisp light wind, temperature right around 18ºC (64ºF for the U.S.-bound), white puffy clouds, a screaming blue sky, and a pervasive airy mood that seemed infused into all. I could hear the buzz of easy conversation, comfortable laughter, the sounds of bicycle bells…I wasn't sure what direction I would go in or what I would pick up along the way, but I was not the least bit concerned. I had an hour, a camera around my neck, and just enough purpose to ensure I wouldn't wander too far.
Our Paris flat is on one of the city's main arteries in and out, the Boulevard Barbes (famous for its many kebab shops), and when I look out of my aforementioned window I can see one of the exits for the No. 4 train stop at Marcadet Poissonnière (again, I offer this detail for anyone out there looking to pin a map…or Google one). In leaving the building, I immediately got off the boulevard, turning left down Rue Simart. Next I turned right down the Rue de Clignancourt heading north towards the Simplon Metro station and some of the more interesting food shops in the area, all specializing in North African and Asian foodstuffs.
I stopped into a shop where my face is known and picked up some olives, some pita, a little Tzatziki, a nice-sized dollop of Humous, and a small tub of Salade Chypriote. French dinner, mediterannean goodies to start…what else can I do? Riiiiight. What goes with everything and is always welcome?
Guacamole!
Still reveling in the remarkable day — if Paris had hummingbirds I would've been able to hear them humming…and likely humming a cool snappy Elvis song, like "Jailhouse Rock" or "(Marie's the Name) His Latest Flame)" — I was soon moving northeast on the Rue Joseph Dijon (no mustard needed on this day), meandering towards our nearest market street, the Rue de Poteau. I won't detail all of the lefts and rights I made to get to the Rue de Poteau, but suffice it to say that although I took my time the walk could not have taken more than eight minutes.
Rue de Poteau. Five butchers, a charcuterie, four bread shops, one of the finest cheese shops in Paris, a few cafés, two wine shops…and a green grocer. Avocados needed, and lots of 'em. Ripe ones.
So I got lucky and managed to grab up six avocados that were just aching to become guacamole. The clock ticking was growing ever louder between my ears, but I figured I could still suffer a trip back up the hill to À La Bière Comme à la Bière the new artisanal beer shop that recently opened on the Rue Custine and pick up a few local bottles to share around the great melange of edible goodness I was planning to lay out that evening.
Brews secured, I made the left and right necessary to land me back at home, the bounce still in my step and a smile on my lips that persists nearly two days later on reflection. Not much happened on my walk, nothing in the way of 'eventful' or 'memorable', save for the so-hard-to-capture delight in an hour spent soaking up and appreciating a neighborhood — my neighborhood — that I take for granted far too many days of any given year.
Related posts: