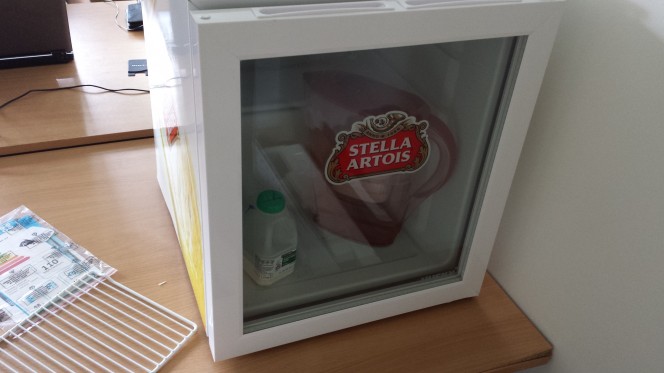 We have a new item of essential furniture in our office: the Husky Stella Artois Refrigerator otherwise known as the drinks fridge.
A drinks fridge is something I have wanted for years. It began when I once visited Sir Terry Matthews' office in Canada. This multi-billionnaire owner of Mitel had his own drinks fridge in his office. I thought to myself if Terry can have one then it must be right.
Unfortunately I've always worked for a business with a professional outlook on life and that being so felt that a fridge in the office would look somewhat out of kilter.
This is no longer the case. trefor,net has attitude, no constraints, no concerns over corporate image to hold back free thinking and initiative creation. trefor.net now has a fridge. All it currently contains is a jug of filtered water and what's left of a pint of milk. However the plan is to fill it with suitable other liquids for the ongoing and ad hoc refreshment of the staff.
Once when I visited a Cisco facility at Research Triangle Park in North Carolina I noticed that their kitchen had floor to ceiling fridges filled with drinks. Well our needs aren't quite that extensive but I will show a picture of a suitably filled fridge at the nearest opportunity. Not this week mind you as I am out of the office after today.
For future reference though if anyone is in Lincoln on  Friday afternoon from say 4pm onwards they should feel free to swing by  Room 18 at Sparkhouse and join us in some cool refreshment. Ease into the weekend. Feel the lurve…
Other cool stories include:
Kettles and Fridges
Embarrassing refridgeration gaffe
The kitchen of things