Openreach engineering visit fixes one fault and finds another
The doorbell rang yesterday just after lunch. It was an Openreach engineer. Good news. He had come to fix our phone line. I wasn't expecting him but there again wasn't going to turn him away.
Out phone line has been jiggered since Saturday. It's ok as the broadband was still working fine and the only persons that call us on our home phone are scammers and my mother in law. In one sense that was a bit of a result although funnily enough that was not my wife's view on the situation.
The fibre to the cabinet connection only needs one wire but the phone needs a pair so it is  quite possible for one to continue working without the other.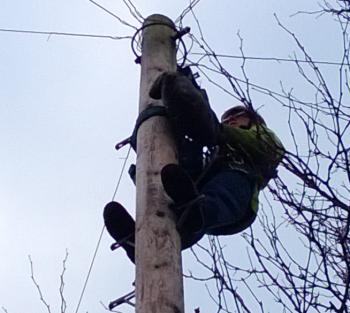 So the engineer turns up and does a few tests both inside and outside the house and proceeds to find two faults. One is the one on the ticket which turns out to be a short circuit somewhere in the house (hoover bashed the socket!?). We fix that by just disconnecting that socket.
The other, which was a bonus, hasn't been fixed yet and relates to a mismatch between the impedance profile on the two wires, or something along those lines. I wasn't totally listening.
Our telephone wiring has been butchered about no end of times over the years so it comes as no surprise that there is a fault. It all started when I got so annoyed with BT that I ordered a second line and had a second ADSL line installed with a different provider. Funnily enough after getting the second line put in I got a sales call from BT trying to sell me broadband.
Having two lines coming in to the house has confused things from time to time especially when one of them was no longer in use. During one Openreach engineering visit a couple of years ago the engineer reused one of the spare wires from the second line to fix a fault in the first. This I think is where this current problem lies.
I'm not getting involved. Just leave it to the Openreach engineers who are actually quite a competent bunch of lads. Their (openly stated) problem lies in the fact that the whole copper network is just a pile of cack and it's a difficult job to stay on top of the faults.
BT do from time to time make announcements to the fact that they are taking on more engineers (go to BT jobs pages here if you are looking around). The time may well come that the cost of maintaining the ageing network will outweigh the cost of rolling out fibre everywhere.
It's gonna be a while. The only way I can see it happening short term is if we all go out and steal the copper lines. If the whole network was pinched then it would probably make sense to replace it all with fibre. Glass is cheaper than copper. Please don't try this one at home though. It was merely a throwaway jocular remark intended to raise a smile. It was not intended to be genuine guidance for the frustrated home owner looking for reliability and genuinely high speeds in their broadband connections. Also it would be illegal. You have been warned!
Anyway back to my outstanding fault and the Openreach Engineering visit. My broadband speeds have been a bit up and down of late. I've been reluctant to raise a fault as I'd be getting in to a maze of engineering no shows and the possibility that they wouldn't find a fault anyway as the problem is intermittent. Also it's not helped by the fact that whenever I do a speed test using one of the network ports in the kitchen it runs at the correct speed. I just didn't fancy wasting hours trying to improve the home wifi performance.
So I've been burying my head in the sand and avoiding the issue. Now thanks to the inadvertent discovery during my other Openreach engineering visit the problem may get sorted. Yay.
Don't forget you are all invited to the trefor.net xmas bash. When the tickets are gone they are gone.