Superfast broadband connection vouchers – hands up if you've had one
Slightly annoys me. I get this email from HMRC winding up my expectations. "Up to £3k towards a superfast broadband connection". Now I already have an 80/20 line but actually it is rubbish. I'm about 800 metres from the cab. It's a long way. I only get 30 megs down and 7 megs up. It's a bit of a disappointment but on the other hand much better than the old ADSL2+ I had. Maybe superfast broadband connection vouchers are for me.
So when HMRC send me an email suggesting that I might avail myself of a three thousand pounds grant I think. Okaay. Goood stuff. Maybe I'll be able to use it to connect to a nearer cabinet. There is one I know.
I clicked on the find out how link and entered my coordinates. It a message jumped out of the screen, punched me in the face and said no way jose do I get a grant.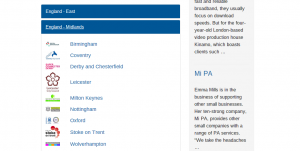 If I lived in Brum, Coventry, Derby, Chesterfield, Leicester, Milton Keynes, Nottingham, Oxford, Stoke on Trent or Wolverhampton I'd be ok. Maybe.
How totally crap is that? Of course I'm not really bothered, says I putting hands nonchalantly behind my back and looking distractedly into the distance. I am though. It bothers me that there is a finite list of places that can get the grant.
How did they figure that one out? Totally pathetic. What makes Milton Keynes more deserving than where I live?
The other pathetic bit is that HMRC know exactly where I live yet they still spammed me with hope inducing messages. Messages that make them sound great and good and generous whilst knowing that really they were just playing with my emotions. Lifting me up, dangling me there and then letting go.
"Let's have a bit of a laugh" goes the conversation. Well I don't find it funny.
Superfast broadband Connection Vouchers. To have and have not.