London broadband speeds shocker
At first glance this map of London broadband speeds coverage is a bit of a shocker. It's been published by Mayor Boris Johnson (or by his minions) based on inputs from Ofcom.
You can see that the residential areas outside the centre are by and large well served albeit with a fair few "not so superfast spots". However central london is a nightmare.
One presumes that the same logic applies to central London as to business parks where FTTC is frequently not provided. The rationale is notionally absence of an adequate business case. Cynics have been known to suggest that the real reason is that operators (naming no names) prefer to push businesses towards higher value Ethernet connections knowing that superfast isn't available and the bandwidth they must have (as Yoda might have put it).
We make no call here. Simply report he facts. I would be a bit dischuffed if I was in an area that could only get "fast" broadband if all around me were on the blistering stuff.
For your convenience, and because the embedded pics are just screen grabs of the original interactive maps we provide the legend:
Superfast – Next generation broadband (> 30Mbit download speed) is available at 1 to 100% premises within postcode
Fast – Maximum download speeds from 10 up to 30Mbit
Slow – Maximum download speeds from 2 up to 10Mbit
No Data – No data available for this postcode
Interesting to consider that 2 – 10Mbps is labelled as slow by the GLA folk. Can't disagree with them. It's also the uplink I'd be wanting to make sure of.  The old ADSL uplink speeds don't cut the mustard anymore.
I've done you a zoomed out version of the featured image – shows a lot more superfast broadband availability.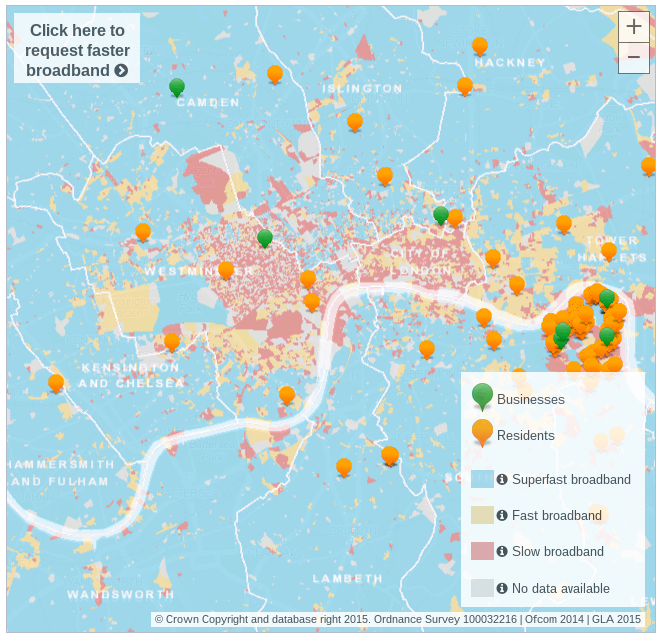 On a slightly different but similar subject I was browsing the Twittersphere for broadband related tweets and came across thissun:
https://twitter.com/sarabudge_DSSB/status/612945097827745792/photo/1
It was this response that struck a chord – the forgotten people of the internet world. London or Aberdeenshire. Notspots know no geographic boundaries, only population densities.
@sarabudge_DSSB @BTScotlandNews @Aberdeenshire like learn about this too, but apparently I may not get the chance till 2018 or not at all😡

— Andy Shinnie (@74sthstanddon) June 22, 2015
PS I don't know how I came across this map. I figured a link was emailed to me but I can't find the email. Odd eh?
Och aye