Bandwidth usage – the only way is up
I periodically discuss the bandwidth usage on our home broadband and the growth trend in data storage on our NAS box, driven by the number of photos we store. This usually prompts a discussion on home broadband data usage and for your entertainment and delight I've put this chart together as an update to the previous post from 2013 on this subject. Clearly we were due an update.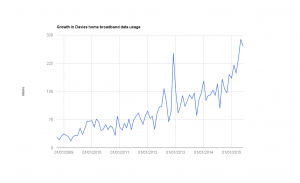 What prompted me to think about this subject, apart from the ongoing decision making process re which broadband provider to use, was the fact that yesterday I copied some video footage off our CCTV. It was of our son's 18th birthday party and there are memories in that video that will at some stage be overwritten by the CCTV box.
The CCTV records in High Definition and uses 1.7GB per stream per hour. I copied 6 hours from 2 cameras which I make to be 20.4GB of data storage. Add to that the footage from the GoPro used by one of the kids on the night and you have a hefty amount of storage just to record the proceedings of the evening. I don't yet know how much is on the GoPro – it has a 64GB SD card and can record in 4k format.
The footage from the CCTV is very clear and in great colour (take note burglars). I doubt we will look at it very often or maybe not at all. Maybe it'll get rolled out every now and again in the same way that we watch our wedding video about once every blue moon. It doesn't really matter. The NAS box, currently with less than a TB used out of its 2TB capacity is upgradeable to 4TB. The storage is cheap.
Won't be long before our rate of usage starts to grow significantly. Just as our broadband data usage continues to grow. It looks as if our broadband data usage approximately doubles every two years. This suggests that by 2017 we will be using 600GB a month and 1,200GB, or 1.2TB a month by 2019!! I believe it.
I'm sure I wrote a post sometime about when I expected to have to upgrade my NAS box but I can't find that. When I get home I'll take a look at the picture storage data over the last few years and extrapolate – just for you. I'll add it to this post tonight. I'm betting the trend is going to look just like the broadband usage and with mainstream 4k use not far off (I don't think it is yet even though it's readily available) who would bet otherwise.