Custard is a dish best served cold
I'm a great believer in knocking off work when it gets dark. If it had been intended that we should work in the dark we would have invented torches been born with a light on our foreheads.
It's ten past four and it's getting dark. Time to huddle round the hearth, nice woollen blanket on our laps. Only illumination is the glow from the fire. On this occasion I'll have to settle for switching on the central heating and stick with the glow from my laptop screen.
Way back when we lived in Waunfawr near Caernarfon we had a coal fire which my mum used to like to lie in front of. Then we moved to the Isle of Man where we only had radiators. Mum used to lie in front of the radiator! I digress though there isn't really much point to this post. Just thought I'd take a break from doing other things.
It's a good job I can type without having to look at the keyboard. Ish. Cos it's dark. I mentioned that. It's also chucking it down. Quite relaxing here in the conservatory with the sound of the rain on the roof. My office is in the conservatory. It's all cabled up but I only use the Cat5 connection for the SIP phone. Also have a SIP DECT phone fwiw.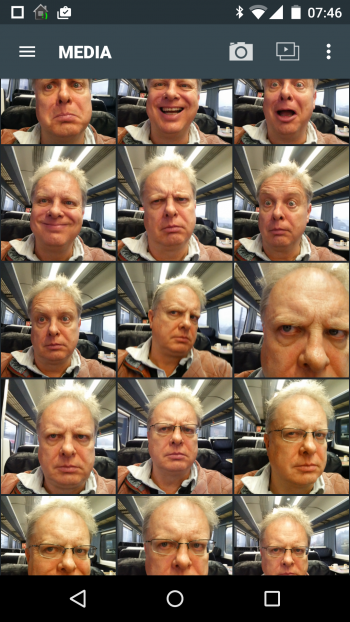 A car has just driven by on the main road outside with its siren going. Couldn't tell whether it was a police car or ambulance (or fire engine for that matter). Wouldn't have been able to see anyway because of the hedge. Also I've had to switch on a light – have just realised my touch typing ain't all that good anymore. It's a consequence of changing laptop sizes too many times. Each keyboard is a different size – messes up your spatial awareness ifyaknowworramean.
Now I'm multitasking, writing this post and communicating with an offspring using Facebook. Of course you can't tell that I'm doing it but hey… It has meant that my productivity rate has slowed.
It's really dark out now and the heating is at last taking effect. Another siren goes by. The mean streets of Lincoln. Buzzing tourist spot by day. Gangland by night. Not really. Just sounded exciting. Sometimes you have to jazz life up a bit. Like, for example, by coming along to trefbash 2015. You know it makes sense. Also still have a few tix left for my Danny Prieskel dinner where we will be discussing telecom fraud. Get signed up.
Couple more sirens go by in short order. Must be something big going down. Mean streets, like I said. More likely to be a traffic accident. When it rains, as it is still doing right now, we have road traffic accidents (RTAs) and the Lincoln roads get gridlocked. On such occasions the only sensible course of action is to park up and head for the pub. You can always come back in the morning for the car.
If you live near Lincoln one thing you might be interested in is the trefor.net carol singing night at teh Morning Star pub – my local. Details on Facebook. It's on 23rd of December this year. We have Colin Dudman accompanying the singing on the piano and when we've done with the singing Joe Davies joins in on trumpet and we finish off the night with some jazz.
I think that'll do for the mo and will leave you with the following saying to muse over:
custard is a dish best served cold