Date/Time
Date(s) - 09/07/2015
12:30 pm - 2:30 pm
Location
Kettner's
Categories
We all like to get coverage in the media. Exposure for our companies has a value: for existing customers it reaffirms to them why they are customers of yours, for prospective customers it is an endorsement that in considering using your services they are along the right lines, for staff it provides a feel good factor – their employer is a name in the space and they are in tune with the company message.
trefor.net is renowned in the tech industry for it's executive networking lunches and dinners. We invite expert guest speakers who are able to stimulate a highly productive round table discussion that is both entertaining and informative.
Hitherto these events have largely focussed on the IT Director, CTO and CEO. Now for the first time we are introducing a series of networking lunches aimed at giving value to the Marketing Director.  For smaller businesses who perhaps have no marketing department this role is likely to be the business owner – a busy person with many hats.
These events are designed to make the most productive use of your time. A 12.30pm start with a finish at 2.30pm allows you to schedule a useful networking meeting into your busy working day. 2.30 isn't a hard finish – discussion can continue beyond then if your time allows.
This first trefor.net Technology Marketing lunch examines the whole concept of PR in tech and communications markets. We discuss what works and what doesn't and how to go about generating material that will be interesting enough to gain traction in the online media space.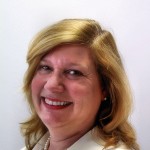 Our guest speaker on this occasion is regular trefor.net contributor Lesley Hansen.
A marketing & PR specialist, Lesley has been working with Snom Technology AG since March 2014 to provide a focus to their marketing in the UK and to ensure a regular and valuable flow of information to Snom channel and prospects.
Lesley has a track record of success spanning 28 years within the IT and telecommunications industries. Previously, she provided marketing services for three companies within the TeleWare Group, a telecommunication product and service provider serving 25% of the FTSE100.
Prior to TeleWare, Lesley was Marketing Director for several innovative companies within the networking and telecommunication sector including Net-to-Net Technologies and Micom Communications which was later acquired by Nortel.
Lesley has also held product management and training roles at Cabletron Systems and British Telecom and has worked with a variety of voice, data and converged communications products both in the UK and overseas.
You will get a lot out of this event. If your business operates in the technology and communications markets you need to be there. Due to the intimate nature of this event we are restricting places to one per company. If you want to bring a colleague let us know and we can see if there is space nearer the time.