Last week Matt Russell, CEO of WebHostingBuzz went down with Ukrainian manflu. The Ukrainian version is vicious strain and is especially effective when the Siberian winds sweep down from the Caucasus to catch the unwary Englishman abroad. Because of this it is very rare to find a native male Ukrainian there in February – they all winter in the Cote D'Azur. The whole country is left in the hands of their womenfolk who are of course immune to the virus.
Anyway Matt had been down to host a session at LincUpLive in Lincoln last Friday in which I was going to be a panellist. #LUL360 is a conference that discusses the use of social media as a business tool. Due to his affliction he got in touch and asked me if I would stand in for him. A big ask as I'm sure all of you who know Matt will agree. I did my best.
The session was held jointly with Jon Grubb, former Editor of the Lincolnshire Echo.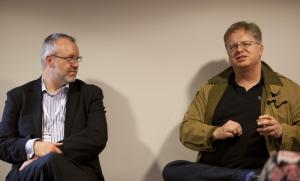 I discussed the Timico approach to social media and Jon critiqued it from the perspective of a classic PR person. We had a lot of fun. It isn't often I get to tell my anecdotes about the pigeon v broadband race anymore. There was also the Move over IPv4 bring on IPv6 party and the World Record Attempt etc etc.
We had some great audience engagement and an hour passed in no time. The message is that stories about how great left handed widgets are don't work. If the left handed widget is used in a bank robbery that is a different kettle of fish (mixing it up a bit here I know 🙂 – I'm a bit prone to that )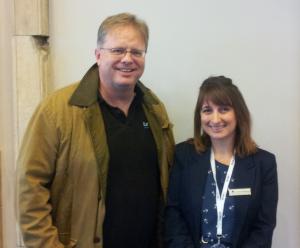 The best bit is that I despite my best efforts no one let me pay for a drink at the after show party. If you want to understand how social media can be used within your business I can recommend attending a LincUpLive – the next one is in September.
As a footnote I should mention the venue. This was the brand new Doubletree Hotel on Brayford Wharf in Lincoln. I was uber impressed with this new facility – Lincoln needed a top class hotel and now we have one. Check it out. Photo is me being shown round by Doubletree Sales and Marketing Manager Nicola Shepheard. The hotel must have been built on the site of the old Lincoln Electricity Works – some nice touches around the lobby.
That's all.