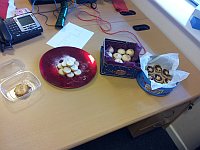 Today we had four entries for the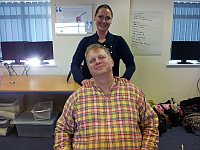 Timico mince pie making competition.
You will note from the picture on the left that one of the entrants looks as if he only brought in one mince pie. That was Big Rich Wright.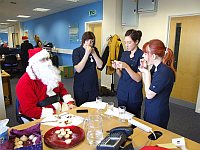 He ate all the others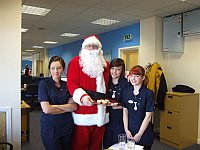 (claims it was his workmates). I had intended to be one of the judges but whilst I was having my regular massage, Santa came in, rounded up a team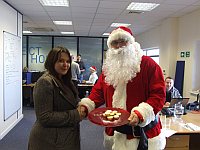 of judges and cracked on with the competition.I totally missed him! I am pleased to announce that the winner of this year's Timico mince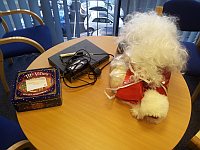 pie competition is Fiona Spear – seen here being congratulated by Santa. I have to say I thought they were all winners and would like to thank Faye Hemingway, Victoria Webster and Rich Wright for also entering.
The judges were Daryl, Danielle and Sophie – beautician students from Grantham College. I wish them well.