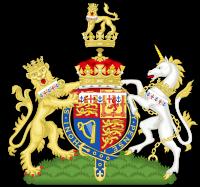 Just had a bit of a Royal visit from the Duke of Kent. He came over specially for a butchers' because he'd heard of our growth/work with apprentices/new datacentre/NOC/awards etc etc etc.
I was a bit disappointed to see that his car didn't have a flag. The last time I came across the Duke was at the Farnborough Air Show where I was his guest for lunch. At the time I was on the Exec of the Parliamentary Space Committee. Lunch was on the roof of the Society of British Aerospace Companies pavilion – the spot where the Harrier jump jet used to bow to.
I was there with a group of British and French MPs – members of their respective Parliamentary interest groups. We had an extremely informative and enjoyable afternoon at the end of which we all piled into the Jaguar courtesy cars to go back to the bus for onward ferrying to Westminster. All that is except me. There was no room!
"No problem" said an able assistant. He whipped the flag off the Duke of Kent's Bentley and drove me to the bus himself. All of which is why I was disappointed the flag wasn't to be seen anywhere. I guess the Bentley will be knocking on a bit now and his 7 series will be far more comfortable…