A little rugby, a FTTC broadband cabinet or two, all in a Sunday's walk.

On Sunday morning I was walking with a couple of my kids from our hotel in Leamington Spa to my oldest son's flat, where we went to watch the Rugby World Cup final. To my utter delight, I came across a  FTTC broadband cabinet and insisted we stop for a photo opportunity.
My kids are used to this kind of thing, and weren't overly embarrassed when people passed by wondering what the attraction was with a metal green cabinet when there was a beautiful park and greenhouse in Jephson Gardens a mere stones throw away across the river Leam. My daughter, though, did once move to the back of the crowd when I stopped in front of everyone to take a photo of a Grandstream SIP phone during a guided tour of Southampton University student accommodation.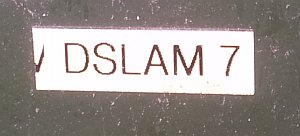 There was no doubt that it was a FTTC broadband cabinet – there was a small yellow label on it containing the words DSLAM. Anyway we continued on our way to the flat to watch the rugby which finished with, from a Welshman's perspective, a highly satisfactory narrow victory for the All Blacks. This was despite the fact that France probably had the best of much of the game, and the ref ignoring what seemed to be a number of high tackles, where in my view France should have been awarded penalties.
The other satisfactory result would have been a storming 70 point victory for New Zealand. No sour grapes at all here 🙂
Just to finish off with some BT FTTP tidbits, I note that as of last week there are now 35,020 premises that can gain access to FTTP. There has been a steep increase in the numbers being provisioned over the last few weeks, helped by the use of overhead cables rather than underground ducts to access the cabs.
This won't mean much to the the general public as BT's marketing seeks not to distinguish between FTTP and FTTP, with a harmonised product set due to be announced at some point. More on this schedule as I get the info.