Today is one of those absolutely stunning British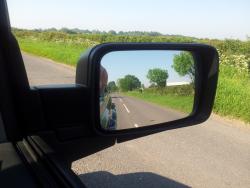 spring mornings. You feel it everywhere. The smells, the gentle warmth of the lightest of breezes, the clear blue sky with just the faintest of clouds somewhere on the far horizon, the birds singing happily to themselves in the bushes. It's the kind of day where I've often thought about turning the car around and heading for Skegness instead of going to work. I'm a rebel at heart. I didn't do it today – not enough holiday to spare 🙂
We are in for a fantastic summer. Forget banking problems, the Euro, Greece, Spain (et al). Forget that jobs list1.  Think cricket, tennis, Olympics, Diamond Jubilee, festivals, even think European Championship football if that is your bag. Think tall cool drinks under shady trees, picnics on the riverbank watching the boats drift slowly by. Lie back and gaze up at the rays of sunlight filtering though your straw hat. Light up the barbecue then, when you have eaten and your faces are sticky with bbq sauce and butter off the sweetcorn,  throw a few small logs on the embers and enjoy the firedance, plucking away at your guitar until it gets dark and the empty bottle of wine or the realisation that it is almost bedtime tiredness drives you inside.
Life is short. Enjoy it.
1 except for the mowing the lawn bit – that needs doing to make everything else enjoyable, besides I like mowing the lawn.