I'm just doing a lot of work with Microsoft Windows 8 at the moment and am running it on the desktop and on the Nokia Lumia 920. It is taking me a while to get into the OS but it is going to be on the menu on trefor.net for the next few weeks.
I am also going to be comparing Windows8 with the Google ecosystem – Chrome and Android. This isn't one big post or article. It's a series of bite sized chunks discussing specific aspects. I think this whole subject area is important because I see the business customer base polarising between the two. It might take some time for this to be totally apparent but it is happening.
It's a cloud versus mobility versus desktop play. Whoever gets the mix right will take the top spot and by definition, money. Apple isn't in this business centric game other than a boutique player.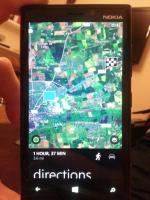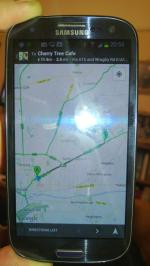 In playing with Windows Phone 8 (or whatever it is specifically called) – I am using the Nokia Lumia 920. Some of my comments may be specific to Nokia rather than Microsoft but for simplification I am going to assume that they are one and the same.
The first opportunity I had to compare the two was last Saturday when my beloved wife and I decided to go for a stroll through the (bitterly cold) flatlands of Lincolnshire. We settled on a walk to the Cherry Tree Cafe, a renowned purveyor of hot drinks and home made cuisine in Sudbrooke.
To figure out how far it was to walk and how long it would take I used Google Maps. 3.5 miles and one hour five minutes. Perfect. We could get there for a cup of tea, walk back and I would be able to sit down and watch Wales wallop Ireland at the rugby. As a cross check I did the same with the Nokia Lumia 920. The answer I got was a slightly longer 3.6 miles but giving me an elapsed time of one hour thirty seven minutes. Oo I thought.
The walk actually took bang on one hour five minutes – it would have been less had my wife who is a bit of a racing ferret not had me in tow slowing her down.
Now it may be that Nokia assumes a slightly older and less mobile demographic as its main customer base but this isn't a good start. The error of half an hour represented around 50% delta in actual time taken. Not much use if you rely on a service to plan journey times. That's all for now.
PS note the header photo was a sign we passed in the village of North Greetwell. It should read North Greetwell, Please drive carefully through our village!
PPS Each phone photo taken with the other – review of cameras to follow soon.