Sat in Alexanders coffeeshop/bar/restaurant whilst kid2 has a hairdo. Alexanders has wifi, fair play. The wifi is giving me 34Megs down and nearly 9Megs up, very fair play.
This shouldn't be news in this day and age but getting those kinds of speeds is still a delight. It's made even better by the fact that everyone else in the gaff are of the ladies with idle moments out shopping variety. They are chatting using the old analogue mouth and ears method rather than the in vogue "talk to the person sat next to you via IM". The upshot is that I have all the bandwidth to myself. Salright innit:)
The last time I sat in a caff with wifi1 was at the Harbour Lights in Peel in the Isle of Man. We follow each other on twitter (@harbour_lights). I tweeted how good it was and to my surprise the waitress came over and told me the tea and crumpets were on the house. Read that blog here.
Alexanders also has a twitter account @Alexanderscafe but they haven't used it for yonks so I doubt the same ploy would work again. It wasn't deliberately planned the first time anyway 🙂 Doesn't matter. I'm happy to pay for my cuppa. The atmosphere is nice and it's a good place to hang out whilst a hairdo is being done.
Other wonderful wifi stories:
No mobile networks but wifi saves the day
The view from my table at Alexanders. Uploading and editing pics is a dream with this wifi.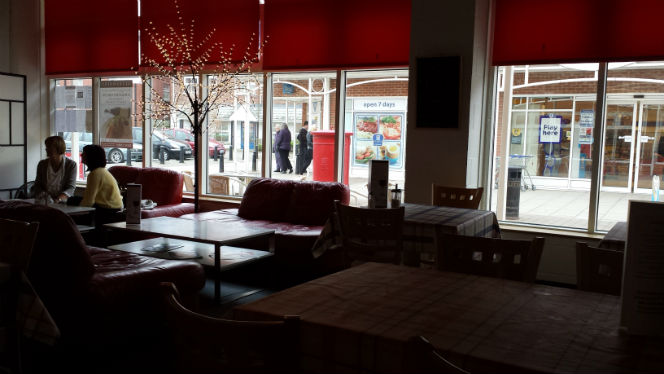 1 not really but it sounded good for the purpose of this storyline
PS the speedtest shot is the only bit of the speedtest.net screen that isn't plastered in adverts. I'm not letting those freeloading broadband companies have a free advertising ride on trefor.net nosiree:)