A visiting friend and I were slated for two days in London beginning Tuesday morning, however the night before My Missus came down with a painful malady I won't describe here, so instead I put my friend on the Eurostar at the literal crack of dawn and returned home. Quite disappointed — I had been looking forward to hanging in London with my friend for over a month, and to catching up with other friends while in town, too (apologies once again, Tref, for not being able to connect for that beer) — I started pondering whether there was some way I could chase my friend up once my honey bunny recovered. Eurostar one-way ticket? Lessee. No. The price of that seat would be nearly double what I had paid for the original return ticket! Short hopper flight? The cost made that option a non-starter as well. Hitchhike? Really…come on. Then I remembered that back in my own personal Paleozoic Era (read: 2000) I had once taken a bus from Paris to London.
Not remembering the name of the bus company that offered service to London from Paris, I went all Bing on the problem and was soon staring nostalgically at the Eurolines website. Riiiiight. That was it. At the station at the end of the M3 train, whatevertheheck, at Galieni. I first came across an ad banner on the site that offered one-way Paris-London service for €18, shook my head in disbelief, and then very quickly came to disbelieve it when I saw the fine print (45 day advance purchase…my own, if it happened, would likely be closer to 45 minutes advance). C'est la vie. Regardless, the price was bound to still be quite good in comparison to the other options, so I punched my Departing From and Going To into the handy-dandy widget on the page and clicked Search.
€43. I was in business.
Eurolines typically runs seven buses from Paris to London, four of which I consider to be reasonable at my creaky 49 years of age (no overnight buses for me, outside of dire circumstance), and seeing as My Missus was seemingly coming around from her epically bad night-before and recovery morning I began focusing on the 15h00 bus (arrival at London Victoria at 21h30). At some point in the mix I thought I saw the word "wifi" in association with the Eurolines bus trips, and while that wasn't a decision-maker I did find myself lightening to the prospect of a 6+ hour bus ride knowing I would be able to extend myself beyond the confines of the coach.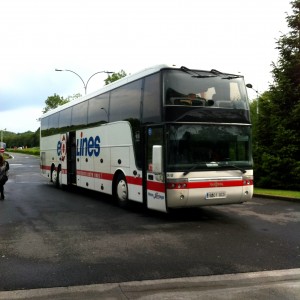 As morning morphed into afternoon My Missus remained asleep, sloughing off the awfulness and catching up on lost winks. Just as I began shifting my bus plans to Wednesday morning, though, she popped up not-quite bright as a penny but somewhat shiny nonetheless. Before long my girl was breakfasted (at 13h30) and talking about going into work for the afternoon. I made a few noises about hopping on the bus to catch up with my friend, quickly received a sincere and truthful "Oh, you should definitely do that!", and began once again to look forward to two days of London-style this-that-whatever.
13h54.
To AppleKory I went, fingers a-flyin'. I bought a ticket online for the 15h00 bus, printed the ticket out, threw a few essentials into my computer bag (like I had time to put a proper bag together…yeah, right), confirmed that my camera would be along for the ride (you want to know my camera's name, inquisitive reader, I just know you do…information not forthcoming today), threw on a jacket I probably wouldn't need and bolted.
14h05
Marcadet Poissonniers station, the M4. Change to the M3 at Réaumur–Sébastopol, direction Galieni. Short delays at many stations along the way, the tick-tocking clock in my head growing louder as said clock's hands move ever-closer to 15h00. Pulling my ticket out of pocket to ensure Galieni is my target and discovering the small print that says — translated from the French — "Arrive at the station no later than 30 minutes before departure." (it is 14h41 at this point, 19 minutes before departure and still two stops from the station). Uttering profanities, mental image of pounding the Metro train doors to hurry things along. Galieni. Dashing for the Eurolines station.
14h52. I am stepping on the proverbial skin-of-my-teeth, which has dribbled out of my mouth and under my shoes.
Check-in accomplished, I board the bus and find my seat. Sweat glands working? Check. Respiration at full capacity? Check. Skin temperature at maximum tolerance? Check. And then I start to relax. The on-board wifi can wait. I just want to feel the road moving under the bus wheels and exhale until Morpheus drags me off for a short doze. And soon enough that is exactly what happened.
Roughly an hour later I am awake. I am also hungry, having not eaten a thing since breakfast and not being able to grab any kind of a nibble at the bus station in my haste to make sure I was on the right side of the vehicle's doors at departure. "Swallow it, Kory.", I say to myself and I do. All I need is a little distraction, and if the Internet isn't good for that it isn't good for anything. I pull AppleKory out of her warm cozy place, fire her new self up (she is a whole other creature since I replaced her 1TB hard drive with a 2TB over the weekend), and start looking for trouble…er, the Eurolines wifi.
No dice. No joy. No wifi. On my bus "wifi" may as well have stood for "wishful fantasizing", as there was no such service (the Eurolines website does say "free wifi**" with the ** indicating "**Available on most of our lines"…wishful, indeed). Thus I found myself relegated to whatever entertainment media I could find on the aforementioned 2TB hard drive. Another "C'est la vie."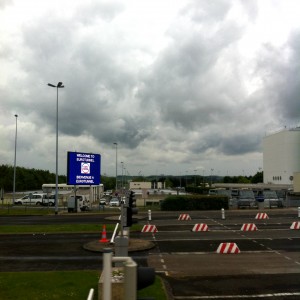 Compared to the Eurostar at just a little over two hours, even with wifi the six-and-a-half-hour Eurolines trip to London promised to be quite the slog. In truth, though, even without the wifi I would have to dig hard to slag it with anything approaching conviction. Comfortable seats, the consistent steady motion, travel companions without evident psychoses or hygiene challenges, a clean and usable waste management facility; for the price the Eurolines bus service has to be tossed onto the far too small "High Value" heap.
Following a very curious journey through the Eurotunnel — the driver drove the bus INTO a huge enclosed train (parking it right up behind another bus, with a truck then driven in and parked right behind us), which itself soon began to move — we were in the UK, barreling our way to London. Before long, Lewisham…passing by the Kia Oval (lights on, cricket match in progress!)…arriving at Victoria Coach Station.
I alighted with iPhoneKory in hand (still my not-so-smartphone, for now), knowing there had to be a Nando's somewhere nearby.
Related posts: