Repurposing a 20th Century British classic for the new millennium.
Trefor.net is pleased to welcome "VoIP Week" contributor Mark Williams, Director of Sales at Obihai Technology.
The GPO746 is loved by many – it's hard to ignore the classic look and high quality construction of the original — but with most of us now using VoIP it is often left to sit there as an ornament and gather dust.  But we can give it a 21st century upgrade!
The GPO poses a few challenges for VoIP hardware enthusiasts. First, it requires a ring capacitor to drive the bells when it rings. Also, the GPO is a rotary dialer, which most modern ATAs don't support. But where there is a will there is a way, and here I will offer detail on two approaches that can be taken to ready this classic for the world of IP.
The Easy Approach
The easiest way to get your classic phone to work with VoIP is to plug all the adapters inline, external to the phone. To convert the rotary dial clicks into DTMF you can use a Dialgizmo, a device that sits inline between the ATA and the phone. It works well, though it will occasionally detect the hook flash as a "1" and send the DTMF so you need to be careful when taking the handset off hook.
Along with the Dialgizmo you'll need to find a ring capacitor. You can either purchase an inline ring capacitor from an online store, or you can repurpose a master socket if you have one lying around.
Finally you'll need an ATA.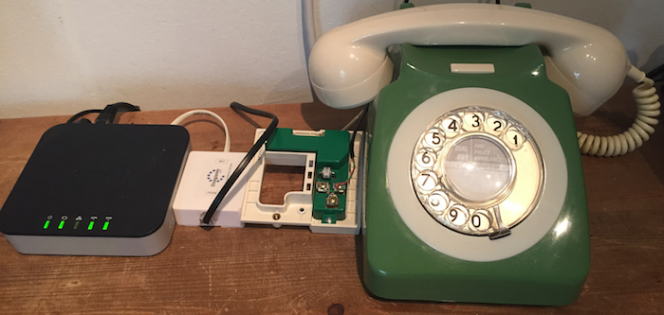 Using this simple conversion approach you can get your classic phone working over VoIP.  But you want a more elegant solution, I hear you say?
The Advanced Approach
You say you don't fancy having a string of adapters connected to your classic phone? Well, if you are handy with a soldering iron, the Rotatone offers another method, an integrated solution, installed inside your GPO746.  And if you're not handy with a soldering iron, don't worry – they also have a service where you can send in your classic phone to have the Rotatone and a ring capacitor installed (after making a ham-fisted attempt at soldering — It's been many years — I chose the send-in option).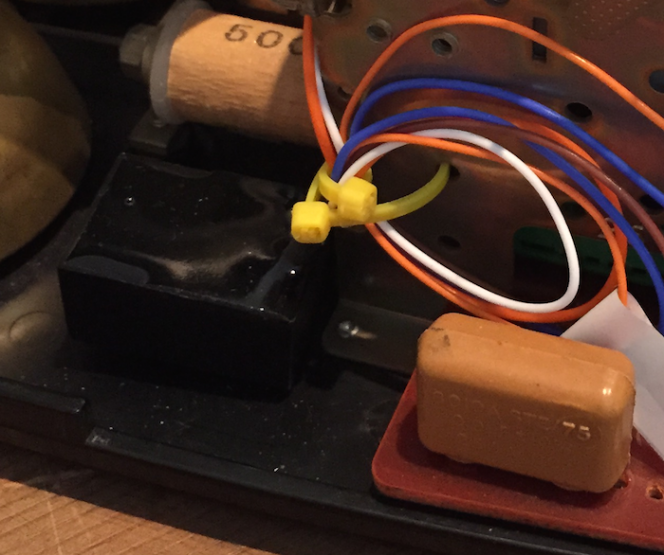 The Rotatone has the advantage of not suffering from hook switch triggering DTMF tones, and having the ring capacitor installed in the device also removes another item from the daisy chain between the phone and the ATA.
So how about we go a step further an install the ATA within our classic phone as well!
The OBi200 (and OBi300) ATA both fit perfectly between the hook switch of the GPO746.  If we remove the line cable from our phone we can wire this plug internally straight into the back of the ATA and route the power for the OBi via the line cable's port.  Rather than drill into the case to create a hole for an Ethernet cable we can instead plug an OBiWiFi adapter into the back of the ATA to allow it to operate wirelessly.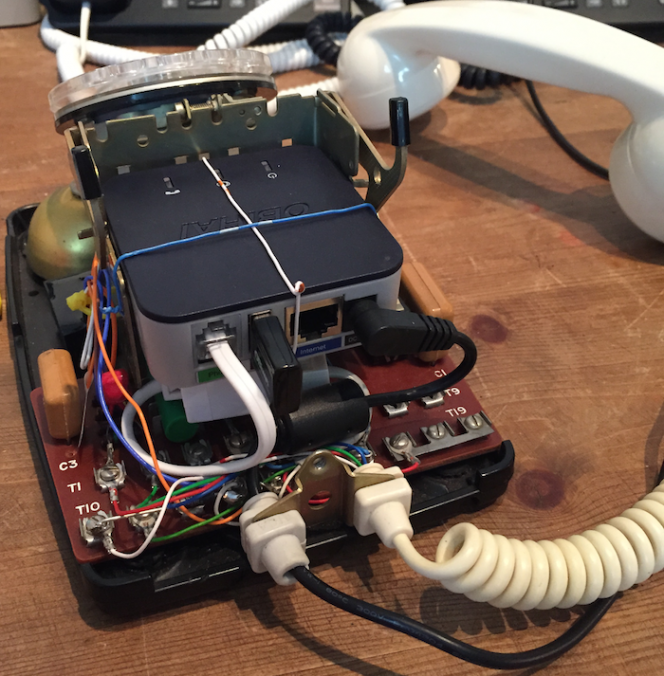 We now have our WiFi-enabled GPO746 IP Phone, repurposed and ready for the 21st century.  And you can even take it a step further by installing an OBiBT USB adapter into the USB port.  To do this you'll need to use a USB hub to allow plugging the OBiWiFi and OBiBT adaptors into the one port. If you can find a place to squeeze that in you will have a GPO746 that's not only wireless but that can also pair with your mobile phone via Bluetooth.
So what are you waiting for?  Winter is just around the corner, and there are few better excuses for spending an afternoon converting your phone in a small room filled with solder fumes.  Best of luck!