Steve Hodges is the Managing Director of Astro Communications, Ltd.
So I am a fully 'out' closet techie. Really. Having starting in comms when ADSL was a pipe dream and you could get 9.6Mbs on your Nokia phone, I suppose I joined the technology industry just after those that created it and ahead of those lucky enough to feel as though they have always had email/internet/mobile phones. In the last 20 years some interesting and useful products have come and gone — Rabbit Phones! BT Home Highway! Even the old Palm TRIO! — and about a trillion products have turned up look like technology used simply for the sake of technology.
I have an HTC One Mini for work (which I love), an iPhone 5 for personal use, a standard Lenovo Twist laptop for day-to-day, and an iPad for out-and-about. I also carry a MiFi device "just in case", all of which keep me connected, productive, and agile.
Yesterday I took delivered of my Pebble Steel watch. Second only to Google Glass (when it turns up), I felt when I read the reviews that the Pebble Steel watch could possibly be the most exciting advancement in technology since the smartphone. A member of my management team wears a Sony SmartWatch, which is just too…'Speak and Spell'-looking for my liking. I am sure the uber-cool can get away with it, that is if will.i.am is your style guide, but for me — dressed in a suit and tie most days, normally rocking an Omega Seamaster Professional (yes, like James Bond), driveing a Volvo 4×4, life complete with chocolate Labrador — it simply wasn't for me.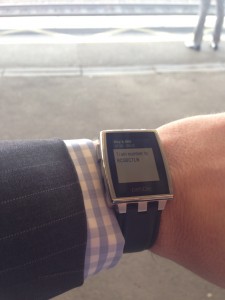 The Pebble Steel arrived in a beautifully crafted box, complete with leather strap, metal bracelet, and magnetic charger. Its face is just big enough to display a few lines of text (monochromatic text, which is a shame), but is not so big that it looks as though you accidentally left your diving watch on following the weekend. It has three chunky, easy-to-use but unobtrusive buttons on one side, and one on the other. In my view, the Pebble Steel has the looks of an elegant timepiece.
Out of the box, the Pebble Steel just needs to be paired with your phone via an app, and you are on your way. Box to brilliant in under three minutes. The notion of how it delivers its information is a little more complex, though, as it requires the installation of a number of apps (the watch can only take a maximum of eight at any given time, however they are quite easy to interchange), of which there are plenty to choose from on Google Play.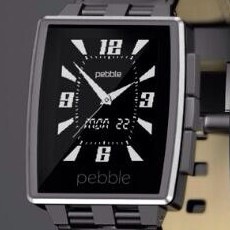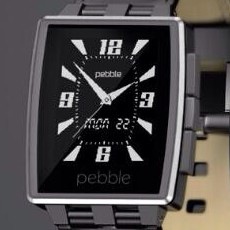 The documentation that accompanies the Pebble Steel watch states that the battery will last about five days, and that the device is waterproof to a practical level. Also, the Bluetooth connection is robust, and thus far I have had no trouble maintaining my information feed upon leaving my phone on my desk and wandering around the house or office.
At the start, I loaded a calendar app, a notifier app, a weather app and a navigation app. I do want to clarify that these apps don't have much in the way of functionality in themselves, that they take the capability from my phone which pushes notifications over Bluetooth to the Pebble Steel which then passes information back. When a notification arrives on your wrist, you can set it to subtly vibrate and let you know there is something to look at. No more reaching for the mobile every few minutes!
Aesthetically and technologically the Pebble Steel watch is exactly what I had hoped for and more. In fact, I truly believe it exceeds delivery against all my "I need one of those because…." justifications. Just last night while in the house I was receiving tweets/SMSs and email previews on my wrist. Calendar invites were turning up, too, and without as much as a glance at my desk I knew what I needed to know and could ignore the beeps and vibrations from my phone regarding the things I didn't. And this morning I was able to leave my phone in my bag and wander through my calendar appointments, preparing myself for the day ahead without once popping open the laptop or picking up my phone.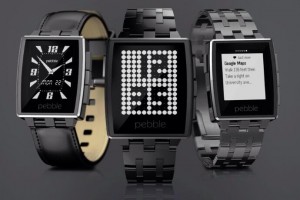 Out and about, while walking to the train station, I was able to see notifications of new emails and also see when an incoming phone call was coming in, all without fumbling around in my jacket for my mobile. I rejected the call from my Pebble Steel, but had I had a headset on I could have simply answered the call and used the call control from my wrist. I went to the ticket machine at the train station and scrolled through my calendar until I found my reservation number in my diary entry for the day, with the ticket collection number and seat reservation at hand. It even gave me turn by turn instruction on my walking route by paring with google maps on my HTC via the Nav app. Of course, I could have done this all with my mobile, but now I can leave that in my bag or jacket and get instant notification of anything I need on my Pebble Steel. Oh, and it also tells the time!
Functionally the watch has already justified its cost (£151 ($279), plus the £35 import duty). I will have to change some of my day-to-day set up, improve my email filtering, and set up my "Do not disturb" notifications to ensure that I am not woken up in the middle of the night by a barrage of overnight spam, but this is a tiny price to pay for having such a useful piece of technology at hand.
Other aspects of the Pebble Steel that I have yet to investigate properly include the music and phone dialer app — I can control the music and the voice functions of my phone from my wrist while driving in the car — and the extended from-your-wrist camera operation functionality (personally, I doubt its practical benefits, but I am sure it will appeal to and find use with many).
As for criticisms, I guess it is all a matter of perspective. Would it be nice if the Pebble Steel had a touch screen? Maybe. Would it be better if it came with a colour, high resolution face? Possibly. Would it be better if it had a mic and speaker so I could talk to my wrist? Not better for me, but I am sure it would be better for someone out there. Would I prefer to be able to delete, forward and/or reply to my messages? I think so, but there might be an app for that as well.
Considering what I was hoping for — the ability to leave my phone in my bag, jacket or office and get real time notifications of emails, SMSs, tweets, phone calls and other useful information — the Pebble Steel is simply perfect, and it looks the part too. I am delighted with the new high tech addition to my PAN set up. It get five out of five for looks, five out five for build quality, five out of five for ease of use, and six out of five for practical application!
Related posts: