Paid a visit to Netsumo's Network Operations Centre today with Ben, our Head of Network Operations. We are looking around at best practice in NOC design and it is always a pleasure to spend time with Netsumo CTO Andy Davidson.
Andy is one of life's genuinely nice guys and very knowledgeable in the Internet Networking space. Netsumo is based at state of the art office facilities at Electric Works in Sheffield and operates over 30 networks on behalf of is customers. The company represents the epitome of best practice for network operations in the UK.
Like all good technical businesses Netsumo looks after its engineers and the working environment is second to none. At centre stage of this is a four storey helter skelter that transports staff to the ground floor in seconds.
Of course we had to try it out – see photos below.
Andy tells us that the helter skelter has two functions. Firstly it is used for rapid deployment of engineers when on an urgent call out. Secondly it is used for rapid deployment of engineers when off to the pub after work. Both are laudible objectives I'm sure most will agree.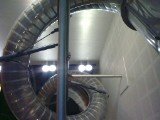 Pics are a little small – I uploaded them to Facebook from my mobile and that is how they turned out!