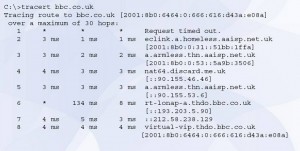 Adrian Kennard of AAISP gave a talk on their implementation of IPv6  at yesterday's UK Network Operators Forum (UKNOF).  Whilst it may not be of huge interest to most readers it is worth taking a look at how the old IPv4 and new IPv6 networked worlds will talk to each other.
The picture below represents a tracert to the bbc.co.uk website.  The BBC sits on an IPv4 network.  AK is moving  AAISP exclusively to IPv6. His customers still need to be able to reach everywhere on the internet and this is done by Network Address Translation (NAT), something that most people will associate with private internal IP addresses.
The tracert clearly shows the long originating IPv6 address 2001:8b0:0:31::51bb:1ffa and the point in the network at which NAT is used to convert to IPv4, in this instance when connecting to the LONAP peering exchange. The shorter 212.58.238.129 address is the more familiar IPv4 format.
Thanks for Adrian for permission to use this.  His presentation can be found here.