I joined twitter 802 days ago on 17th May 2008. Since then as @tref on Twitter I have sent 2,623 tweets, an average of just over three a day. Not too bad for anyone who thinks I spend too long on the site.
In June, according to twitter COO Dick Costolo twitter had 190 million users, growing by 300 thousand a day. These users were generating 65million tweets a day – that's enough for twitter to be building its own brand new datacentre to handle all the traffic.
That's less than a tweet each a day which points to many people signing up for the novelty value without taking it further. In fact although twitter is termed as a "social networking" site, which it is, there is far more to be gained out of it if you have a specific business objective, mostly currently related to marketing and PR.
I'm not a marketing person, though trefor.net does turn out to be a marketing vehicle which was never really my objective in starting the blog. I joined twitter just to see what it was all about. That and because a friend of mine, Jeff Pulver (joined 2 February 2007), is an early stage investor in the site.
My overall stats however hide a more recent behavioural change and by June I was tweeting an average of over 15 times a day – see chart below.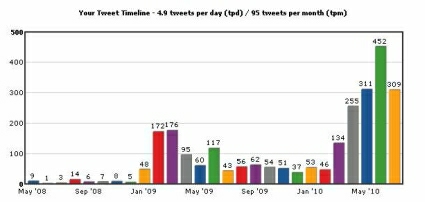 It may be seen I began to get more active in February because I was involved in the debate surrounding the Digital Economy Bill (Act) and twitter was a way of communicating with like minded individuals and getting my message across.
Twitter has now become the third biggest referrer to trefor.net which has, since the beginning of the year, been linked to by 412 different sites.
I do see people styling themselves as Social Networking "gurus" which raises a smile. I find it difficult to understand how someone can be a guru at a technology that is still relatively young – I have been in the VoIP industry for 12 years now for example and VoIP is still considered to be just past the emerging market stage
You can't blame people for seeing an opportunity to make a buck or two though. What the experience with trefor.net does tell me is that twitter is a serious tool that belies the frivolity of its name.
I believe that twitter has the potential to be far more powerful than other social networking sites such as Facebook (look me up – I'm trefordavies) simply because anyone can follow anyone else. I can, for example engage with Members of Parliament without their having to follow me, or even know me. I just follow them and sometimes reply to their tweets – assuming I have something worth saying.
I know most of my Facebook friends but have met hardly any of my 906 twitter followers. it doesn't matter because there is very little personal data to expose on twitter and I can happily tweet away in semi anonymity without worrying about the bad guys out there.
Anonymity isn't the name of the game though. It's all about reach and twitter reaches the parts other social networking sites don't go.