I hope that someone gets my…I hope that someone gets my…I hope that someone gets my broadband in a bottle.
You heard about the tref and rory pigeons versus rural broadband race. Well not everyone has access to a pigeon. However everyone can get hold of a USB memory stick and put it in a bottle with a cork in it. The idea is you load your content onto the memory, put it in the bottle, cork it and throw it into the stream running along the side of the cowfield.
In due course the bottle will make its way downstream and no doubt be picked up by someone who will open it and take out the memory stick. This will inevitably be somewhere with better internet access. Upon placing it in their PC (no doubt scanning it for viruses) they will click on a readme.txt file which will ask them to email the contents to your planned destination.
Simple. Don't know why I hadn't thought of it before:)
Here is the test bottle – picked it up from the Oaisys stand at the  Convergence Summit South.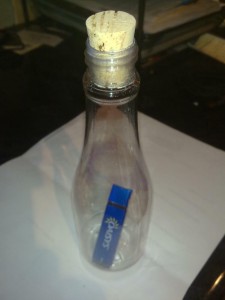 click to enlarge.