It's Friday afternoon. The weekend beckons and with it the barbecue, beer and a total chillout.  With that in mind this is a totally gratuitous blog post. Andrew North is our star Director of Account Development.  He is very good at his job which is why in the picture he walks tall amongst the giants that are his staff.
It may not be clear from the photo that the rugby ball is signed by yours truly:) I have a different one at home that is signed by former Wales rugby giant  Scott Quinnell. I paid bit more for it than the one I signed.
Just to make life interesting I have decided to give away a Timico mug to the first person who can tell me who is the mayor of Timico on Foursquare 1.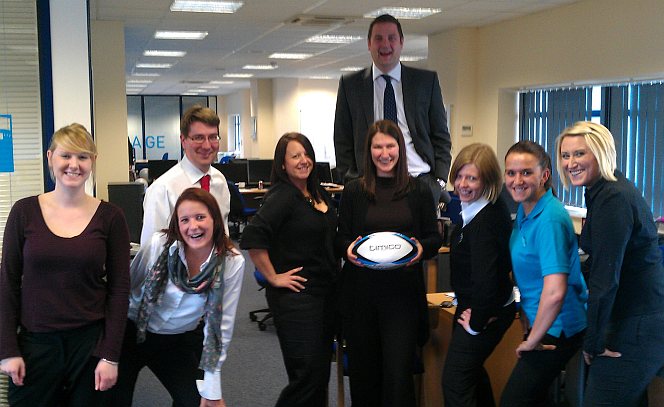 Btw I've just realised that apart from Andrew there are 8 of them in this photo.  Just enough to form a scrum. From left to right are Jess, Simon, Sophie, Emma, Kirsty, Andrew, Clare, Kate and Gemma. They make a great team.
1I'm sorry but this competition is not open to Timico staff or contractors or any of their relatives (etc)