Tried a couple of impromptu hangouts on Google+ over the weekend. The first was one hosted by BBC technology correspondent Rory Cellan-Jones and was prompted by one of his tweets.
This, my first hangout, was seriously easy to join. Because it was my first I had to download a Chrome plug-in but this happened in the time it took me to move from the noisy TV room to the quiet serenity of the conservatory, a place far more suited to a video conference.
The photo shows the hangout with RC-J (@ruskin147), @billt and @jeffjarvis. The only difficulty was deciding who would be the next person to talk as all 4 of use are fairly verbose individuals but this seemed to happen easily enough.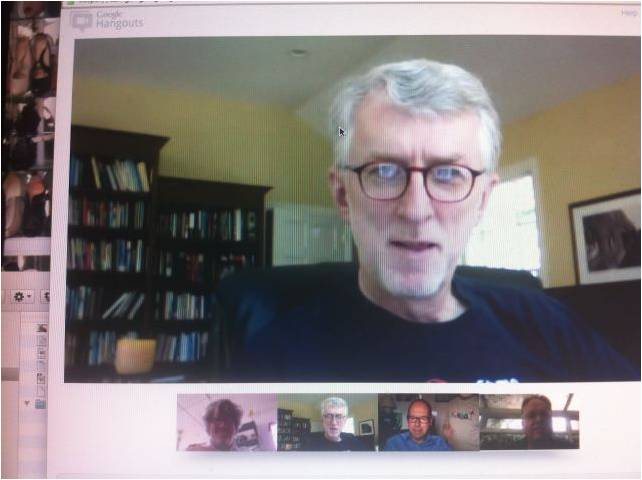 I attempted another hangout with @superglaze later using my mobile phone but the google+ plug-in for Android is either understandably not as complete as the website or not yet as easy to navigate.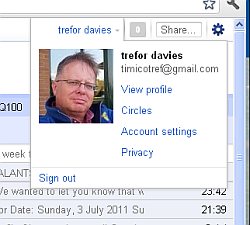 Google+ is an attempt to steal Facebook thunder. It is late to the game and although it is still very much early days I can already see ways where it would be far more useful to me than Facebook.
Firstly it is easily accessible from gmail, which I always have open on one of my screens. Also it isn't difficult to see Webex style collaboration being added to the functionality in future. I can already share documents in Google Docs and have side conversations using Instant Messaging.
I have also disabled email notifications for most of my social media activity to cut down on clutter but Google+ notifications appear discretely on my gmail screen which is far more acceptable.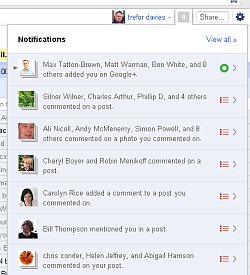 It's a no brainer for personal use and certainly out competes Skype for the small business. I'm not yet sure whether it would fit with control and compliance requirements for larger businesses although Google Docs has some high profile advocates such as the Daily Telegraph Group.
Seeing as I was there I took a bit more of a look round my Google Docs account. I can now rent 20GB of cloud storage a year for $35. I have never considered doing it before but actually may change my mind. I would probably want more than 20GB but as a backup to my external hard drive for family photos sounds like a reasonable cost.
Although it is early days for this new platform I get the feeling in my waters that Google+ will become the Facebook for grown ups. I seldom use Facebook now (ok,  ok I know I'm not really a grown up) other than for keeping in touch with the kids.
Facebook has announced that it will be making a big announcement on Wednesday – apparently around offering an embedded Skype service. Microsoft owns Skype and a chunk of Facebook. It doesn't take a big leap of the imagination to see Microsoft buying the rest of Facebook (v expensive mind) as part of its hitherto not so successful march into the cloud. It would also give Microsoft a better chance of succeeding in the mobile space as integration with a Facebook based online platform would give it more of an equivalence to Google and could potentially drive far more consumers to using Windows Phone 7 on Nokia – whenever that comes out.
This is about big business with very big bets on the table.  Exciting times and for most of us whilst we aren't the ones placing all the bets it is easy to feel part of the game because all this technology touches us. I certainly feel as if I am catching the wave.