I didn't felt at all claustrophobic during my time on board the Aurora for the IT Directors Forum. This is partly because there is plenty of space but also because the schedule was so packed it didn't give you time to think about such things.
I did manage to squeeze in a chat with the guy that ran the internet cafe. There is WiFi all over the ship but it isn't something you would want to use for casual internet access because a) at around £100 an hour  it is expensive and b) there is only 750kbps to service the whole ship – that's 2,100 passengers when full.
In order to preserve some quality of customer experience the Aurora limits the number of simultaneous users to 32.  At the time of writing I can't get on so there is clearly plenty of demand although this being a "business" cruise full of company directors it is not necessarily representative of the norm. Apparently some American cruise liners don't apply a limit to the number of users so goodness knows what experience their customers have.
The Aurora uses the Maritime Telecommunications Network (MTN) which operates geostationary satellites at 22,000 miles up. For your information the latency this creates is around half a second – that's the time it takes light to travel 88,000 miles (up down up down).
Clearly you are only going to use the service if you have a specific need (eg catching up on this blog 🙂 ) . The typical user is on for only 5 – 20 minutes – just to catch up on emails etc. The average person will probably be online for 30 – 40 minutes in any given cruising month.  I don't have the real numbers but this sounds like a nice money spinner.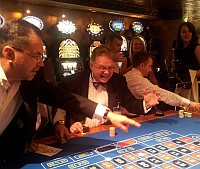 Apparently one of the common uses for the satellite link is for people to manage house sale transactions. Gives you an idea of the average age of the typical passenger – people downsizing and blowing the cash on a good time. And why not I say. Plenty of ways of spending the kids inheritance on board!