Apparently during WW2 in the USA diners became hubs for social networking. Somewhere for lone workers finishing a late shift perhaps to go and chat to someone. At UC Expo in Olympia this week this was replicated and brought up to date by giving the diner actors  iPads and laptops to play with. As an artistic creation it was great. However I can't for the life of me remember whose stand it was so unless it was a charitable act in support of "social networking" they might want to change who they use to design their exhibition stands to make themselves more memorable!
A few things did stand out at the show. You could not escape the Microsoft effect because they must have taken up a quarter of the floor space. Microsoft was effectively standing on a chair in the middle of a room and shouting "you have to take us seriously". Microsoft was selling Lync and its ecosystem.
Lync, the Microsoft Unified Comms play – Instant Messaging, voice etc, has moved on significantly since we saw them at UC Expo this time last year. Not, I suspect, the basic functionality, but the number of vendors supporting products that are compatible with Lync – receptionist consoles, call centre applications etc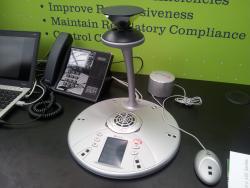 I didn't get the impression that it was being used in any great volume – the voice bit at least but Lync desktop clients are shipped free with a Microsoft Enterprise license – throw enough seeds… Coincidentally as I write someone called Barry from Microsoft has just called to see if we would be interested in rolling out Lync. We will certainly kick the tyres. They clearly are spending a lot of marketing dollars on this right now.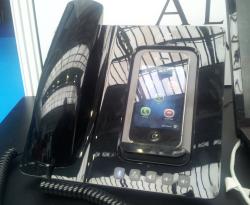 In the Microsoft village a couple of gadgets caught my attention. One is the Polycom video conference unit – this looks sufficiently space age to be cool. The other was the  Altigen Fusion SmartStation and MaxMobile smartphone app. The smartphone app runs both cellular voice and VoIP and connects to the SmartStation using Bluetooth. The SmartStation then behaves as a normal telephone handset whilst simultaneously charging the mobile device.
This is the way ahead. Altigen also have plastics coming along
to support various Android devices and, if my memory is right, BlackBerry. All it now needs are keyboard, monitor and mouse ports and we are done – the PC is a thing of the past.
Also had a play with a couple of Lumia phones demonstrated by an overly enthusiastic guy who had been trained up especially for this show. I have to say the UI and I didn't gel though it does take some time to get use to a new operating system.
Finally Powernet were demoing ViBE which in my mind is the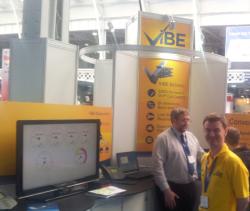 ultimate in bonding and QoS technology for ADSL circuits destined to carry both voice and data. Check it out here.
Powernet, which is a Timico Technology Group company was the only ISP at the show as far as I could see and had a very productive time of it.
That's all folks.