Went to my mate Jamie's 50th birthday  "geeks and bimbos"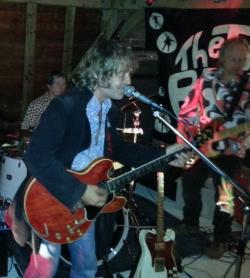 party in Sussex on Saturday night. Though I don't class myself as a true geek compared with some of the guys in the office I was able to go just wearing my normal clothes. I wore my LINX 15th anniversary black T shirt with shorts and a pair of sandals with Jeep socks.
Great thing was there was a guy called Jon there carrying a TCP/IP manual and I of course was able to tell him I met Vint Cerf himself recently. We were the only two there who had ever heard of TCP/IP or Vint!
Some of you may know that I too have reached the notionally respectable half century milestone. Although the body can't quite take it like it used to I did look around the room and wonder what this age thing is all about.
The party was a great evening. Not got many usable photos – they are mostly blurred. We danced hard to the 60s and 70s music of the Tar Babies, all sang along when instructed to do so – everybody knew all of the words. The concept of "acting your age" is dead.  Prize for the first to spot the  special guest at the party – it's totally amazing how she does it at that age. Click on the header photo for a larger image.
In the Fareham office of NewNet on Friday and one of the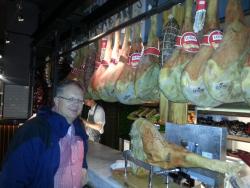 guys mentioned that I seemed to enjoy my job and was always having a good time. I refer you to the lecture given by the Dalai Lama last week at the London School of Economics. In a nutshell he said "enjoy life and do stuff". Recognising this there is another prize for the first to guess the restaurant where this last photo was taken.