Meet John Milner VCP5-DV, MCTS, MCSA+M/S, MCSE+S, MCITP: EMA/SA, A+, S+, eater of cake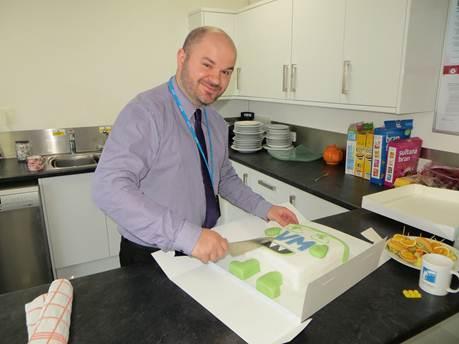 John Milner started with us earlier this year to help with our virtualisation programme. He has a string of great qualifications and has now just passed his VMware Certified Professional – Datacenter Virtualization examination.
We are proud of him and glad that he has come to work at Timico. He has made an instant impact. He's one of those guys you can chuck a job at knowing it will get done in a totally professional manner. We seem to be very lucky with the quality of our engineering staff all round.
In keeping with the cake making tradition we have here at Timico John has brought one in for everyone to help him celebrate his success. It says much about the character of the man that he admitted that the cake was actually baked by his sister. After all you can't be good at everything:)
I of course am on a health kick and will not be partaking. It has been made easier by the fact that I'm sat at home waiting for a film crew to turn up but more on that later…
Well done John & keep up the great work :))
Just for the record & any SEO (smiley face) I repeat his qualifications here for your perusal: VCP5-DV, MCTS, MCSA+M/S, MCSE+S, MCITP: EMA/SA, A+, S+, eater of cake
PS John – sorry if this is a somewhat personally embarrassing post having nice things said about you but credit where credit is due 🙂