The decision to use Google Apps for the new business has been a no brainer. The productivity tools such as document sharing are a real winner. It is also a bonus that I happened to sign up for Google Apps before they started charging so I get it free of charge, at the moment.
When I originally signed up for Google Apps I didn't spend much time playing with the features. I couldn't quite see what difference there was between Apps and my regular Google use – Gmail, Calendar etc. It's only now, as a business that I'm starting to get some of it.
For example all of my Google use up until Christmas has been through what effectively is my personal account. Any trefor.net or philospoherontap.com emails have been channelled through Gmail. My personal calendar was a confused mix of the Samsung SPlanner on my SGS4 and Google Calendar via whatever my laptop was a the time. The SPlanner would feed off both Google and my work Exchange account plus whatever else I programmed in.
When it came to the new business I began to question the use of SPlanner when Google did it all for me so I dropped it.
Now that I have two Gmail accounts, one personal and one trefor.net I've started the process of dividing my life into work and play again. Where trefor.net was once play it is now work so if I use that domain for signing in to platforms that I solely use for leisure then it needs to change. I also have had to work out which persona get what information on Social Media platforms.
In doing all this work of separation I've begun to get a feel for the usefulness of Google Apps specifically in a business environment.
For example it seemed a nobrainer that I should automatically enable my new (ish) Google Apps based trefor.net email address for Google+. I don't think Google+ has anywhere nearly reached its potential yet and I expect to be making more use of it.
Whilst enabling Google+ for my trefor.net account I found that I, as the admin, had to specifically give permission for me, as a user, to use Google+. When you think about it it's the old Enterprise security debate in a real live scenario. With Google+ I can message anyone, at least anyone who lets me. It's the who can send what in and out of the company security cordon issue. I can set accounts up so that they can only use Google+ features internally to the organisation. I'm not that kind of guy though:)
Coming back to Calendar, which is what initially got me going on this post, I've been using my personal Google Calendar as my main one and feeding others (wife, business etc) into it. Then I started to differentiate between personal events and business. After all when trefor.net is an even bigger globally recognised site I may have many people inside and outside the organisation with whom I would wish to share the business calendar – editorial schedule, advertising opportunitites, golf days out etc.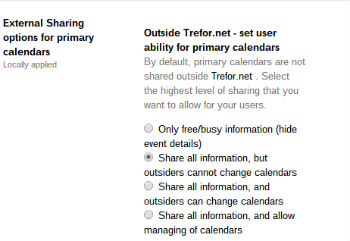 Unfortunately whilst sharing the business calendar with personal I couldn't see the detail of business events from within the personal view. This was a pain because I then needed to switch calendars and was then not using a single interface. This also happens with email but I seem to be able to better live with two email windows.
There must be a setting somewhere. There is. Google Apps assumes that your default it to not share business information outside the business. This is good isn't it?
I found the setting, changed it, and am pleased with myself. I was partially blind but now I can see more! Little things eh?
I'm sure other useful business features that will appear as I stroll down Google Apps Alley, which I shall of course share.
The challenge of separation of work and play hasn't gone away but it is getting sorted little by little. In the meantime why not follow @trefor.net. There isn't much output yet but it will come:)