Ever wanted a manbag? Something cool you can sling over your arm when you're on your way to the data centre? Something that will attract the attention of your fellow engineers?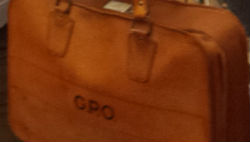 Look no further. Here for your delight and delectation is an original GPO engineer's kitbag.
Original real leather with handy compartments for tools and spare relays/connectors the GPO manbag of 2014 is suitable for carrying a laptop together with your jimjams for that overnight stay in the Docklands Travelodge.
This superb retro man accessory is modelled by BT's biggest fan, Adrian Kennard of AAISP. Click on the image to see the lad looking super cool.
Want one? Ask Adrian. They are probably like rocking horse poo but I'm sure Adrian will let you have a go at holding his. He's just that kind of guy.