I see Mark Zuckerberg (founder of Facebook) is in Barca (short for Barcelona – common usage by  the mobile "in" people) for MWC 2014 (Mobile World Congress two thousand and fourteen).
It's the trendy place to be. You get to be part of the hype, the frenzy. In the run up you casually ask others whether they are going so that they can see that you are going. Affirmative responses result in knowing nods, comparisons of favourite bars and restaurants  and complaints about all the walking that you have to put up with because the show is so large. To those that respond in the negative everything is left unsaid.
I've been to Barcelona. Spent a great few days there with my daughter last summer.  We stayed in a nice hotel slap bang in the middle of the city, could walk everywhere and were able to easily retire to the rooftop bar for late afternoon relaxation when we had had enough of the touristy bits.
I years gone by I've known one or two of our sales people have to travel in by train from miles kilometres away because accommodation was unavailable in Barcelona itself. Almost as bad as the old days of Telecom Geneva where people would have to commute from Heathrow to Switzerland because hotels were totally sold out for hundreds of miles around (ish) the show.
Mr Zuckerberg is in town because mobile is increasing in importance to platform owners seeking their fortunes online. I can confirm this. You can see from the historic visitor trends to the blog based on type of device used (in January of each year).
When I started it was all desktop. Mobile kicked in in 2010 and tablets in 2012. Unless Google wasn't measuring it like that before then. Fwiw and for a bit of a laugh you can check out the most popular mobiles in 2009 at the Telegraph.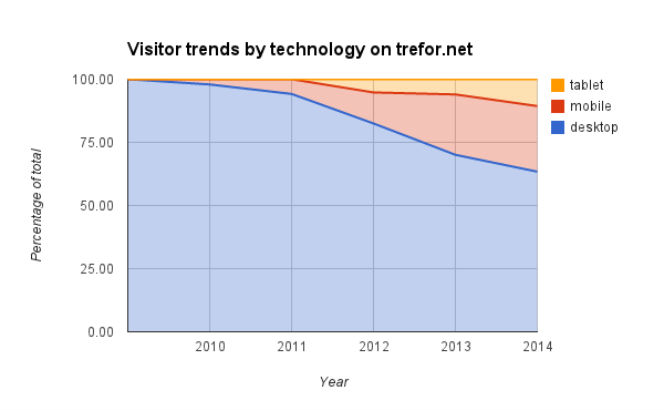 By January of this year the specific percentages are 63.40% desktop, 25.97% mobile and 10.63% tablet. I don't need to tell you that there is a clear trend here. One that Mark Zuckerberg has not been slow to spot.
The obvious conclusion is that one day desktop PCs are going to vanish and it will all be mobile and tablet. Just to save you getting a ruler out and trying to see for yourself I've used a spreadsheet to extrapolate the data and find out when people will be abandoning their PCs for good.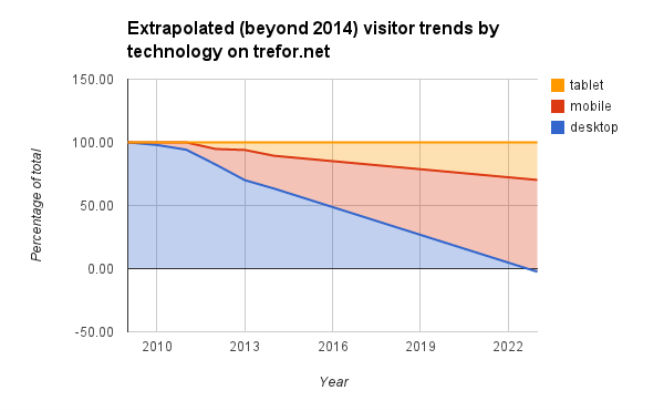 2022 is clearly the last year in which we, the people, will use a PC. Ok I realise the cynics amongst you will pick at these numbers. The old adage of "lies, damn lies and statistics" will ring in my ear.
That's as may be but all I'd doing is reporting what I see. Mark Zuckerberg has probably done the same exercise using Facebook's own numbers. He will be working from a larger data set so he almost certainly knows down the month, week even when the last PC will be used.
Btw I'm not at MWC2014 meself. Got a bit of a cold. Atchoo.
Read the report from MWC here – UK needs to up mobile game.