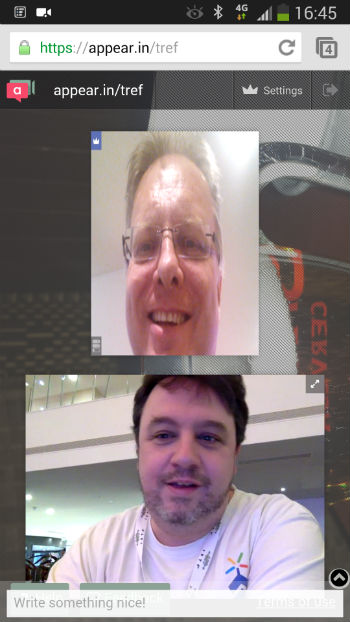 Sat in the lobby of the Hilton Metropole yesterday waiting for UC Exec Dinner special guest Alan Johnston when I hear a voice from afar. "Hey Tref wot you doing here?".
It was Nominet's Ray Bellis up on the balcony. He popped down and we chewed the fat for a while. Explaining why I was hanging round Ray mentioned a new WebRTC service called appear.in. This is a WebRTC video conference facility free for up to 8 guests.
You might say to yourself so what? This can already be done through the likes of Google Hangouts. Appear.in though is a brilliant ad hoc service that you can fire up in seconds with anyone anywhere through a browser. The site allows you to generate an instant conference room or reuse one you "made earlier". I've bagsed /tref obv.
It just worked. We used Ray's laptop and my Droid and were up and running. Looked a bit daft me getting up and chatting to Ray from a few yards away. Had to to it to avoid the feedback  He was using the hotel WiFi. I had 4G on O2.
I got into a bit of a fluster when my cellular device actually rang whilst we were in the middle of the WebRTC session but hey… Modern day problems eh?
I'd give Appear.in a go if I were you. Let me know how you get on or drop me a note and we can conference in.
Ciao (bebe).
Other posts you might want to read:
ITSPA WebRTC Workshop at Google Campus
That Alexander Graham Bell moment – WebRTC at IPCortex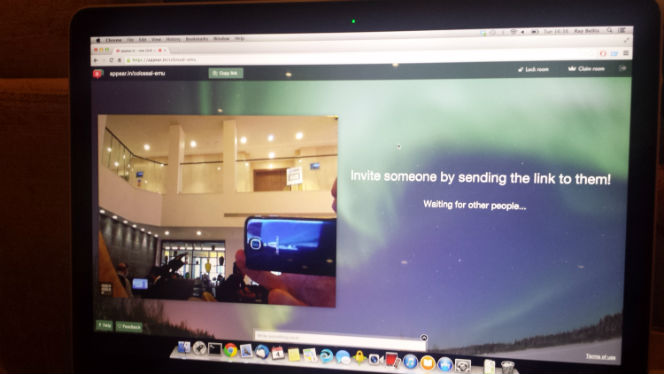 PS not sure if i should call this an app as I have done in the post title. It's a web based service really. I associate an app with something you install on your phone.