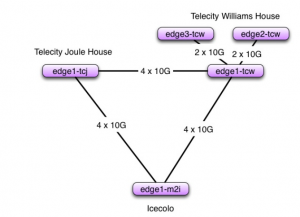 So IXManchester has been up and running for nearly two years (must make sure someone organises  another birthday party for June) and things continue to grow at a slightly slower pace than the first hectic few months.
January saw a IX Manchester meeting take over part of GMEX Manchester Convention Centre the afternoon before UKNOF 27 and the steering committee were hoping that there would be an announcement on the completion of the fibre ring that would add M247 Icecolo in Trafford and Telecity Joule House is Salford Quays to the core – alas the supplier seems to have run into "issues" and we're still waiting.
The good news was that the original Brocade's (re-tasked from the LINX Brocade LAN in London and in service for a number of years before its upgrade to Juniper in 2012) were replace with shiny new  Extreme X670's. Once the software upgrades have occurred then these will allow ConneXions services providing networks access to the IXManchester LAN from remote locations.
There are now (as of writing this) 44 connected broadband networks with 46 ports in use, 7 of these are 10G so there's just over 100G of capacity in operation with the new sites and partner connections we're hoping to crash through 200G this year. Thats a long way behind LINX London with its 500+ members and nearly 8Tb of capacity but its pretty good for a second city in an European country as you can see from the EuroIX list.
In remembrance of the EIX WG I shall now leave you with a traffic graph…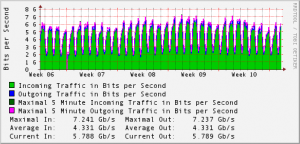 Other peering week posts you might like to read include:
UK internet history – The Early Days of LONAP by Raza Rizvi
INEX's IXP Manager – Tools to help manage an Internet Exchange by Barry O'Donovan
Regional Peering in the UK by James Blessing
Co-operation makes internet exchanges future proof by Pauline Hartsuiker
Experience of launching an IXP in North America by Ben Hedges
The evolution of an IXP network engineer by Rob Lister
Why does Scotland need an Internet Exchange? by Charlie Boisseau