All week long the focus for the coming Saturday has been easily described: "Captain America: The Winter Soldier". The film was released in France on 2-April and circumstance and scheduling conspired to keep La Famille Kessel from taking it in over opening weekend, but that would be rectified on Saturday. No doubt, no question, no choice.
Woken this morning by Bella the Cat and the call to breakfast (again, "À Table!"), my first thought that didn't involve body function was "Captain America: The Winter Soldier"! Hot coffee? Crave it, and not for the caffeine. Orange juice? Cold and sweet and slightly fizzy on my tongue (I mix it 1:1 with Quézac, or whatever other cold sparkling water is lurking in the fridge), every morning I revel in the marvelous contrast it offers to that other beverage. Some edible or another, depending on the day or location or mood or availability borne of desperation. Breakfast, yes, please…but let's not forget "Captain America: The Winter Soldier", OK?
Just as I was breaking the surface into full consciousness My Missus says to me, "This morning we need to replace the broken lamp, and I want to go to that Indian furniture and accessories shop we walked into last month, to buy a birthday gift for my sister."
But…yes, OK, but…but…"Captain America: The Winter Soldier"? Mind you, it is not yet 9h30 and we decided days ago that we would go to a late afternoon showing at a nearby cinema, but…but…"Captain America: The Winter Soldier"?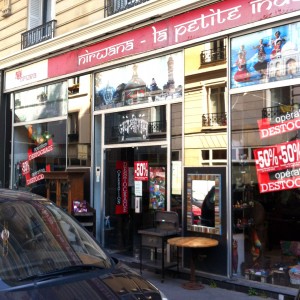 I polished off breakfast, helped my cups and plates and such into the dishwasher (which has needed replacing since Kevin Feige produced his first flick for Marvel Studios — that would be "Iron Man" — in 2008…and perhaps the subject of a future all-too-compelling "Saturday Snapshot" in this space?), splashed water on my face and over the part of my head that once housed my once-signature bushy brown locks, figured out the clothes and shoes thing, and declared myself ready to do what had to be done. Somewhere in Paris there was a cheap halogen lamp just waiting to be brought home, and Indian curios in the 11th Arrondissement to be picked over.
My Missus and I hopped on the Metro, and 20 minutes later we were at Republic. Of course, the lamp could wait (because who wants to carry a lamp around, right?), so we made out way over to Nirwana-la Petite Inde, where I knew my eyes would be made to dance by the myriad of bright and different color combinations (none of which, though, would be good ol' fashioned red, white, and blue).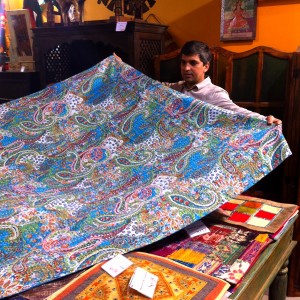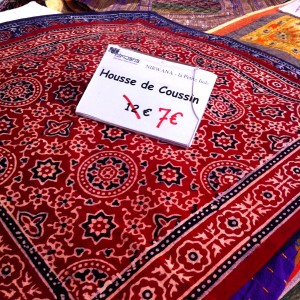 Had no clue going in what direction the sister-in-law gift would take, but within moments of walking into the shop we were heavy into silk Indian bed coverings and pillowcases. Blue and more blue, deep dark reds, so many greens. And the guy running the place couldn't be more accommodating (even with everything in the store at 50% off or greater, the service could not have been of a higher grade). Me, though? Sure, I can appreciate such things, at least to a marginally measurable degree, but with so many elephant tchatchkes about (and a tiger!) there was no way I was going to be cooling my jets with bedclothes.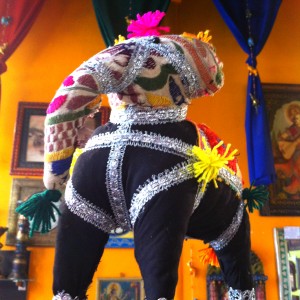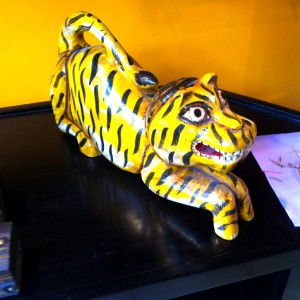 Ganesh here, Ganesh there, Ganesh, Ganesh (and Ganesh) everywhere! And there was that really cool string of hanging elephants with bells…oh, and another one with even more bells (and umbrellas, too)! Eye-shredding color! Hand-painted wood boxes. Another Ganesh, this one made of cast iron. Kama Sutra dice (google it, no photo to see here, so move along)! Ornate picture frames and mirrors and bells bells bells! Floor cushions, both round and square! And…elephants.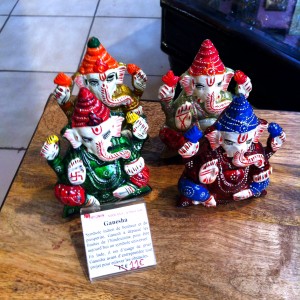 In the end we decided on a Mediterannean-ish yellow bed cover for My Missus's middle sister, and more than just a couple of this-n-thats to strew throughout our flat (a small herd of elephants now vertically guards my desk from above, picture happily sent upon request). The proprietor even tossed a small green-yellow-red Ganesh in the bag for The Boy (who we'd left back at the flat, in Mindcraft care), no extra charge.
"Captain America: The Winter Soldier"? Not forgotten, did that too, and my knuckles are still white from the thrill!
Related posts: