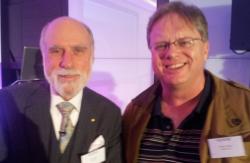 Just heard a nice talk by Brett Carr on Nominet's transformation of its infrastructure. For the lay people amongst you Nominet is the organisation that runs the .uk suffix. All domains ending in .uk. eg trefor.co.uk were I to be the owner, which I'm not because Trefor happens to be a small town in Wales and all place names went very early on in the domain name land grab.
.uk is considered to be a strategic resource for the United Kingdom. The wellbeing of our country depends on it – commerce etc. Nominet therefore has to be run very professionally. Whilst being a not for profit organisation Nominet is well known in the industry for being cash rich and in all fairness donates a lot of its surplus to charity through the Nominet Foundation.
The availability of cash also allows Nominet to use enterprise grade systems in its internal infrastructure. This is different to most of the internet which is run on open source software which by definition is free apart from the cost of support which tends to be managed using internal resources. Nominet's use of Enterprise grade software is consistent with the strategic nature of its remit.
What is interesting is the extent to which Nominet goes to maintain uptime of its infrastructure. It has two data centres in the UK linked by resilient and diverse 10Gbps connections. Most servers are virtualized using VMware. A problem with one  and the system fails over to the other. Problematic resources can be rebuilt very quickly. This is all standard stuff.
The interesting bit is the third data centre in Geneva. In the event of a catastrophic event happening to the UK, and not just to one of the UK data centres, the Geneva DC will continue to work supporting at least some of the .uk functions. We are talking nuclear strike type scenarios here. Data on the infrastructure design and how to rebuild the service is kept in a locked safe "somewhere in the UK" for later recovery.
This did raise a number of questions. If the UK has been hit by nuclear attack who will be left to rebuild the infrastructure? Will anyone care at that point? Where do you buy a nuclear bomb proof safe? The answer to the latter is apparently that there are four nuclear proof locations in the UK. Presumably the safe would be kept there. I dunno.
This post is beginning to drift here but as a kid we lived in the Isle of Man. My dad was the Director of Education there and as such he was guaranteed a place in the IoM government nuclear shelter. The cold war was still going strong during the seventies. Dad told them where they could shove their nuclear shelter. Why would he want to be "safe" inside with his family dying on the outside.
That hopefully is a threat of the past1. Nuclear bunkers seem to be used as secure data centres nowadays. It is at least good to know that in the event of a nuclear attack your .uk domain name will still work. You now just need to make sure your website is dual homed so that you have something for your domain to point at when the balloon goes up. I recommend Geneva.
Other posts featuring Nominet:
Vint Cerf photocall at Nominet Internet Policy Forum (yes I did have my photo taken with the great man)
Global Domain name growth
Nominet – judge and jury of the www?
A brief history of .uk domain names
PS the pic is of me with Vint Cerf at the Nominet IPF – why not? 🙂
PPS added 3rd May – dad and I were stood outside our house in the Isle of Man when I was a teenager when we heard a siren. We lived about 3 miles out of Douglas and we instantaneously wondered whether this was it – the balloon going up. It was during the cold war. Turns out it was the Douglas lifeboat being called out…
1 Apparently we have moved on to worrying about cyber threats these days although there are plenty of nutters around to keep an eye on.