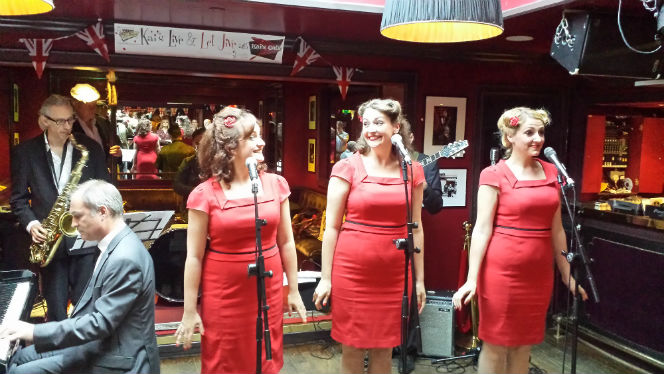 Avid followers of the blog will know I'm away in Florida for the Genband Perspectives14 conference from Tuesday 10th – Thursday 12th June, participating in a panel on UC on the last day.  Being located in a foreign land with a high likelihood of severe jetlag it made sense to fly out early and get acclimatised.
My flight was therefore booked for Friday 6th and needing to get early to Gatwick it made sense to stay down in London the night before. Imagine my delight therefore when I received an invitation to go and see the Haywood Sisters at Ronnie Scotts Bar on the very Thursday night I was to be in town. Yay.
The Haywood Sisters are a lovely trio of professional singers who do vintage 20s, 30,s 50,s and 50s music with a great backing band. They came along to my Xmas bash last year and I went to their CD launch at the Phoenix Artist Club. Check em out here.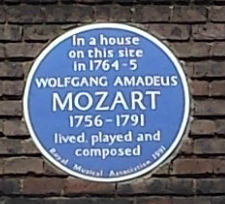 As we, my son Tom and I, were waiting for the doors to open we noticed a crowd of oriental girls hanging around  backstage door opposite. Miss Saigon apparently. What really caught my eye was the blue plaque – Mozart lived there! V appropriate in an area full of theatres and music bars.
Must have been over on a road trip of his own. London, all life is here.
After the girls had been on Tom and I slipped out for a bite at nearby Indian Restaurant the Delhi Brasserie. I woke up the next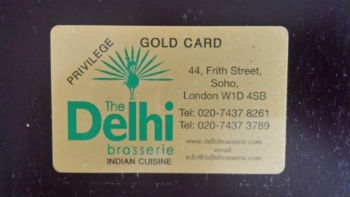 day to find a Delhi Gold discount card in my pocket. Going to come in very handy I'm sure! As I recall the food was good enough or so Tom assures me. That second Margarita at Ronnie Scotts played havoc with my memory cells.
The last photo is of me with Kath (left) and Georgi before they did their set. Was privileged to be sat with their folks.