Morning after the night before – mollusc gets legless.
The night before: We had a BBQ at our house last night. Sending off for Kid2 before her departure for foreign climes and her year abroad. Festivities began at around 5pm and the kids left to go clubbing at 10.30. Couldn't do it meself.
After they had gone with a parting shout of "don't worry about the mess, I will clean it up in the morning" we set to to bring the garden back to semi respectability. To our surprise one reveller had stayed behind to finish his or her pint of cider. The snail shown in the featured image was getting totally legless.
Must have finished off the whole pint, glass and all, because this morning when I got up there was no sign of snail or glass. Perhaps Mrs Davies who got up "just" before me had cleared it away. I will never know because I prefer not to ask leaving me with the notion that there is now a giant bloated snail sheltering under a bush somewhere in the garden. Sleeping off the cider no doubt.
Of course said snail could have been eaten by a bird in which case I expect to see one flying erratically around the garden.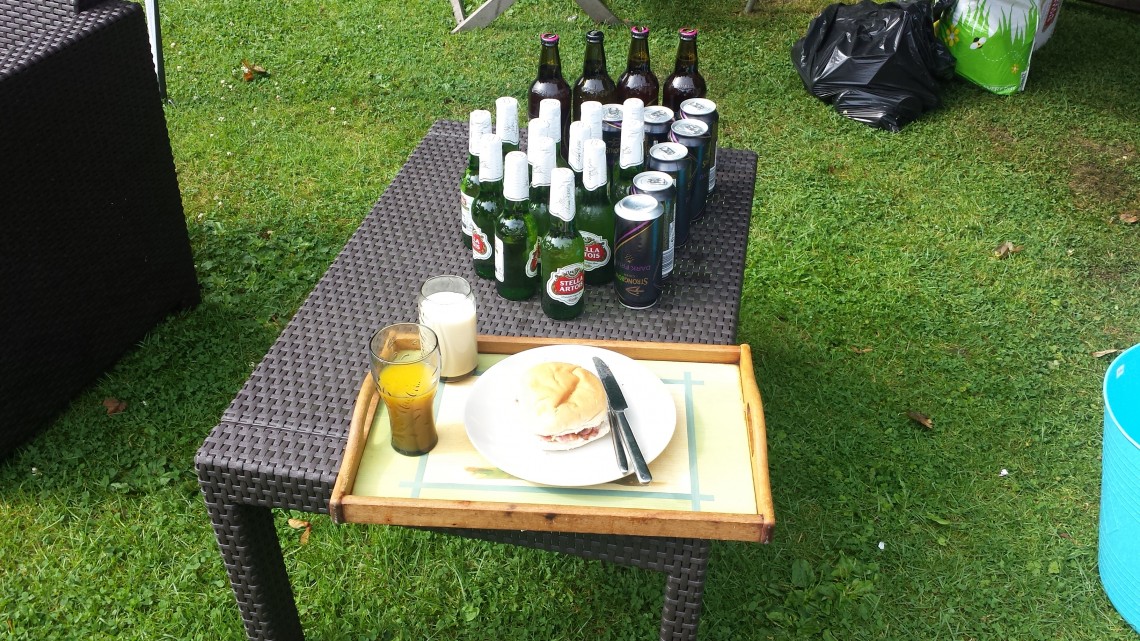 The morning after: It's a bit of a slow start this morning. Something to do with the Stella Artois. Or maybe it was the margarita, or the red wine or calvados, or Carlos I Spanish brandy. It was one of that lot I'm sure.
The morning after the night before I stuck some bacon and mushrooms on the George Foreman Grill and made a spot of breakfast which was taken outside for consumption. In the garden I found we had a lot of designer cider left over plus a day's supply of Stella. Gawd knows when we will get through the cider as Kid2's departure is firmly fixed for Tuesday.
Looks like a red hot day in prospect in Lincoln. Had to come inside to write this post as it was already warming up. Before I wrap up and maybe go out an clean the bbq it is worth noting the gas supply dilemma.
The last thing you want when having a BBQ is to run out of gas. Especially if it is your daughter's leaving bash and she is entertaining her "bezzie mates" (or words to that effect – I'm sure the colloquialism has already moved on, keep up Tref Dad).
There is a dial on our gas canister that lets you know approximately where you are in the gas supply stakes. However what it doesn't tell you is how much actual barbecuing time you have left based on 3 jets firing at full throttle for most of the time. One could just refill the canister anyway but that would of course mean paying for a full refill whilst only needing a partial refill, if you get my drift.
The safe bet is to go out and buy a spare canister. That way if you run out of gas in the main canister the auxiliary can be switched in with very little loss of cooking time. That is what I did. Sod's law of course dictated that we did not run out of gas in the main canister but better safe than sorry eh?